Is the Chinese Army Planning to Hack Starlink? | TechTree.com
Is the Chinese Army Planning to Hack Starlink?
Elon Musk's satellite based internet service is currently operational in 30 countries and China has reasons to worry in the event of a conflict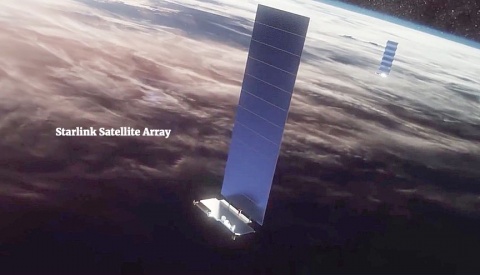 India and China haven't seen eye-to-eye on several matters, both political and economic in recent times. However, when it comes to their experience of billionaire Elon Musk, both appear to be singing the same ditty - one where doubts and concern chase each other.
New Delhi did not take kindly to Musk's demand for a sales and service operation for his electric vehicles under the Tesla brand in India, asking him to start manufacturing it locally instead. And when Starlink announced its operations in the country last December, they were curtly asked to pull down the hoardings as requisite government permissions weren't sought for.
Beijing, on the other hand, appears to have got the better of Musk and is currently fronting the Tesla brand, which manufactures its vehicle in China. However, when it comes to Starlinks, there is a clear nervousness. Recent reports suggested that Chinese military analysts could actually be toying with the possibility of hacking into the Starlink network of satellites.
The satellite-based internet service is available in as many as 30 countries with the Philippines, Nigeria and Mozambique being the latest additions in May. In India, Starlinks had started taking pre-orders last December, before the government crackdown via a public advisory on Twitter that they hadn't taken the requisite permissions to offer the service.
China's worry is more strategic
However, the Chinese appear to be even more concerned. In a document published by the Beijing Institute of Tracking and Telecommunications Technology and made available via a Bloomberg report, analysts are asking the Chinese military to track and monitor every satellite in the Starlink network.
Of course, it isn't as though China won't benefit from the cheaper internet. It's just that the number of satellites and the possibility of the Washington Administration leveraging them in a conflict situation is reason enough for the powers in Beijing to develop a means to target the satellites in Musk's elaborate network.
The document claims that Starlink not only provides more stable and reliable communications for combat units that the United States military deploys around the world, it also could potentially capture and share high-definition images and even live videos of strategic installations across Chinese territory.
So, what are China's plans?
The research paper says Beijing should consider a combination of soft and hard kill methods on the Starlink satellites to render them lose some of their functionalities and go up to completely destroying the constellation's operating system.
Given that China is a largely unexplored factor in space technology, the country is holding all its space cards close to the chest. However, it is well-known that Beijing has invested heavily in sensing and communication systems as well as anti-satellite weapons and defense systems. The US government has time and again spoken about China's growing might in space wars.
Though there is no way of finding out whether the authorities in Beijing are actually taking the research paper seriously, the fact that it got leaked at a juncture when the world took note of how Russia's space capabilities and satellite technology played a major role in its invasion of Ukraine a couple of months ago.
Does India need to worry?
Probably not, given that American satellites have hovered around the subcontinent for ages, though the 1998 Pokhran nuclear test was a major source of embarrassment for the peeping Toms as India managed to give them the slip.
However, the fact remains that Elon Musk's business ventures aren't exactly making a beeline to enter India as it was seen in the case of both Tesla and Starlink. However, with the latter, there is a distinct possibility that India may sign off on the licenses, though how things will pan out in the wake of the government's 5G enablement exercise remains to be seen.