Elon Musk Blames Supply Constraints for Slow Growth | TechTree.com
Elon Musk Blames Supply Constraints for Slow Growth
Electric carmaker Tesla is asking workers to get production back on track while announcing a roughly 10% cut in its salaried workforce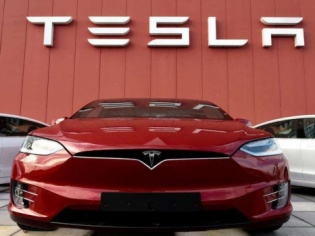 Electric carmaker Tesla plans to reduce its salaried workforce by around 10 per cent over the next three months even as the company struggles to overcome supply chain constraints to deliver the demand for cars across the world.
Chief Executive Elon Musk told the Qatar Economic Forum organized by Bloomberg that this would mean a 3.5% reduction in the company's total headcount. Asking those who booked a car from his company to be patient, Musk said the delays aren't intentional and that Tesla would be increasing production capacity.
He said the company faced a very tough quarter over its struggles with supply-chain issues as well as production challenges in China. The company had made a foray into India but the move hasn't gathered steam over the union government's insistence that Tesla manufactures its electric vehicles in India and not go the CKD route.
The recent troubles for Musk also emanates from Tesla's factory in Shanghai which was shut for a few weeks through mid-April due to the renewed pandemic-led lockdown. The factory, which was capable of producing 2100 cars a day, saw workers live and work onsite in a bubble as part of the company's efforts to get it back up to capacity.
Musk said the company's supply constraints came more from the raw materials side and hoped that things would improve this quarter.
The possibilities of a Tesla electric car on the Indian roads appears remote for the moment given the union government's insistence on the company investing in a manufacturing unit. In May, Musk had said Tesla wouldn't manufacture its products locally till it is first allowed to sell and service the cars in the country.
India imposes 100 per cent import duty on completely knocked down (CKD) kids or fully imported cars that have a cost, insurance and freight value of more than $40,000 while the customs duty stands at 60 per cent for vehicles amounting to less. Tesla had set up a subsidiary in India last year but earlier this month, reports emerged of a key executive leading Tesla's lobbying efforts quitting after the company suspended its plans for the moment.
TAGS: Tesla, Elon Musk, Electric Vehicles