India's First Metaverse Wedding Is Two Weeks Away | TechTree.com
India's First Metaverse Wedding Is Two Weeks Away
A couple from Tamil Nadu will have a digital wedding reception.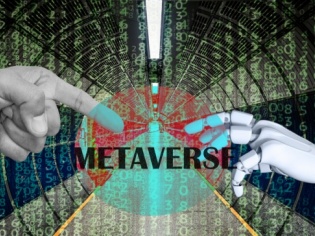 Dinesh SP and Janaganandhini Ramaswamy are all set to be married on the first Sunday in February in the Sivalingapuram village in Tamil Nadu - but their reception will be virtual.
Friends and family across the world will attend the Hogwarts-themed wedding, which will take place in the dining room of Hogwarts castle. Clearly both bride and groom are massive Potterheads.
"I came up with the idea of having a Metaverse wedding reception, and my fiancee also liked the idea. I have been into crypto and blockchain technology, and have been mining ethereum, a form of cryptocurrency, for the last one year. Since blockchain is the basic technology of Metaverse, when my wedding was fixed, I thought of having a reception in Metaverse." – Dinesh SP
The Metaverse is a digital world where people can 'live' and interact with others through virtual avatars. It combines multiple technologies like blockchain and augmented/virtual reality.
Dinesh SP's fiancée is quite thrilled with the idea, and had this to say: "It's apt in a way as we met on Instagram and will be having our wedding reception on Meta."
Dinesh SP shared a video on Twitter that shows what his upcoming wedding reception will look like, calling it 'India's First Metaverse Marriage'.
There are Dementors in the video, the video which is supposed to be a preview of what the actual wedding will be like.
This is truly puzzling because Dementors are hooded creatures that suck the happiness out of people and create feelings of depression and despair in their victims. Why would you want such a creature at your wedding? Quite inauspicious.
The reception will be one hour long and guests can give virtual gifts through the Metaverse, either through gift vouchers, Google Pay, or in the form of cryptocurrencies.
The downside is that you can't eat good food at a digital wedding, but the upside is that more guests can attend digitally, because in real life there are restrictions on how many guests can attend a wedding thanks to the unending parade of Covid variants.
TAGS: Metaverse, digital wedding