Your car may have a minimum of six airbags very soon | TechTree.com
Your car may have a minimum of six airbags very soon
Transport minister approves initial draft to make six airbags compulsory for vehicles carrying up to eight passengers.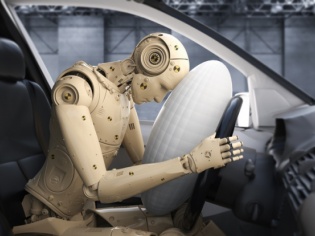 The proposal for additional airbags aims to minimize the impact of frontal and lateral collisions, and to protect occupants seated in both the front and the rear.
"In order to enhance the safety of the occupants in motor vehicles carrying up to 8 passengers, I have now approved a Draft GSR Notification to make a minimum of 6 Airbags compulsory," Road Transport and Highways Minister Nitin Gadkari tweeted on Thursday (January 14).
There's no telling when this mandate will be introduced but last year in August Gadkari urged India's automakers to offer at least six airbags on all variants of each model.
Dual airbags (driver and passenger) actually became mandatory on all vehicles this January. And a single driver airbag has been mandatory for all passenger vehicles since July, 2019.
The additional airbags proposal will be mandatory for vehicles in the 'M1' category.
'Category M' refers to motor vehicles with at least four wheels that carry passengers. The sub-category 'M1' defines "a motor vehicle used for the carriage of passengers, comprising not more than eight seats in addition to the driver's seat".
This basically covers the bulk of passenger vehicles, ranging from entry-level hatchbacks like the Hyundai Santro or Suzuki Altoto to multi-utility vehicles like the Kia Carnival or Toyota Innova.
Airbags soften the impact of collisions by preventing occupants from colliding with the dashboard, steering wheel, front glass, and other vehicle parts.
India's global road safety record ranks near the bottom and Indian cars are infamously behind the curve when it comes to safety features.
In fact, car manufacturers operating inside and outside India have more safety features in their models outside India and less safety features in those same models in India.
Automakers that sell the same model in global markets intentionally cut out safety features for those same models in India's price-sensitive market.
And that will be the big challenge for automakers. The move to mandate airbags will drive up the cost of every vehicle, including the budget cars.
The second challenge will be having to reengineer certain car models to make room for the extra airbags.
But consumers will have no choice but to play ball. What are they going to do, not buy a car and choose public transport instead? Well, they actually might… which wouldn't be the worst thing in the world, at least it would improve India's road safety record.