Ice Cream Sandwich Unwrapped | TechTree.com
Ice Cream Sandwich Unwrapped
New Android OS to support phones as well as tablets.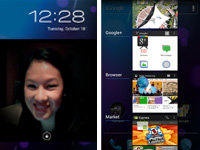 Google has released the latest version of its OS, Android 4.0 (Ice Cream Sandwich). It will work on tablets as well as smartphones.

The latest version reportedly contains the best of both Android 2.3 (Gingerbread) and Android 3.0 (Honeycomb). Here's the list of new features as well as improvements:
A new font optimized for HD displays.
Possibility of eliminating hardware buttons in favour of software buttons (like the Nokia N9).
Interactive notifications and resizable widgets.
Ability to access apps directly from the lock screen (Similar to HTC's Sense 3.0 UI).
Introduction of Android Beam, which uses Near Field Communication (NFC) to pair devices (as seen in Nokia's NFC-enabled devices).
Face detection, panorama mode, and time lapse video features for the camera app.
A new mail app allows you to search in offline mode, and a redesigned calendar app features a new swipe gesture for navigation.
Deep Google+ integration.
A facial detection feature to unlock the phone (similar to the FaceLock app in Symbian devices).
A data usage tracker to see how much data has been used over a period of time.
Google has done the right thing by fusing its phone and tablet operating systems. This will help Android tablets get more apps, considering that Honeycomb didn't get much love from developers due to the fact that it was meant only for tablets. Here's the link to download the Android 4.0 SDK if you are so inclined. The Galaxy Nexus will be the first phone to sport this OS - however, there is no word on whether existing devices will get it as an update.