Charge two devices at the same time with the Power Adapter Duo by Samsung | TechTree.com
Charge two devices at the same time with the Power Adapter Duo by Samsung
The Samsung Power Adapter Duo is compatible with a variety of devices including, laptops, tablets, wireless chargers, smartwatches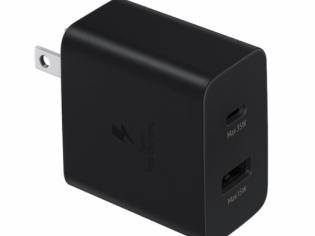 Samsung India has launched a dual charger called the 'Samsung 35W Power Adapter Duo', which can charge devices at high speeds.
This power adapter has two power output ports that can charge two smartphones at once. It can even charge both Android and Apple together as one port is 35W (Type-C) and the other is 15W (Type-A).
The Samsung Power Adapter Duo can also be used to charge power banks and wireless earbuds. This new adapter can charge Samsung Galaxy devices in half the time than regular chargers.
The Samsung Power Adapter Duo costs Rs. 2,299 and is available at leading retail stores.
Samsung customers can expect Samsung to remove charging bricks from retail boxes to address the issue of sustainability. Several companies like Apple have already done this.
TAGS: Samsung Power Adapter Duo, Samsung