OnePlus Nord 2 PAC-MAN Edition has arrived and will soon be available in India | TechTree.com
OnePlus Nord 2 PAC-MAN Edition has arrived and will soon be available in India
The new PAC-MAN Edition of Nord 2 offers a "gamified" experience and will be available at a price of Rs 37,999 for the 12GB RAM and 256GB storage model.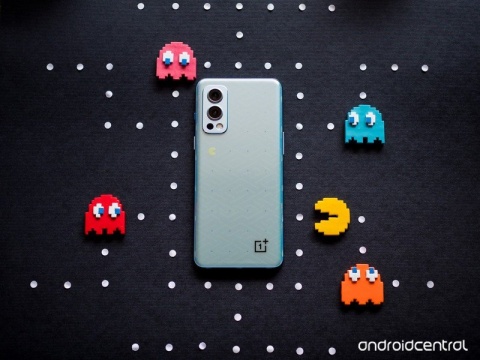 Image Source : androidcentral.com
The OnePlus Nord 2 x PAC-MAN Edition is 2021's limited edition device that comes with a redesigned back panel. The all-new PAC-MAN Edition device has been developed in partnership with Bandai Namco Entertainment Inc. The PAC-Man edition Nord 2 software incorporates PAC-Man game elements in the user interface.
OnePlus as a brand, is known for launching special edition devices. The first special edition device was the OnePlus 6 Marvel Avengers Limited Edition, built in partnership with Disney in 2018. The company then launched the OnePlus 6T McLaren Edition in the same year in partnership with McLaren.
OnePlus Nord 2 x PAC-MAN Edition Specs
The new Nord 2 comes with a back panel that has been redesigned, featuring a dual-film with phosphorescent ink applied to its innermost film that OnePlus says allows the device to glow in the dark. OnePlus Nord 2 x PAC-MAN Edition comes with a maze inspired by the classic game that glows in the dark. Well, that will surely stand out for OnePlus Nord 2 x PAC-MAN Edition users.
Apart from the back panel, OnePlus has also integrated software tweaks in OxygenOS UI that's full of PAC-MAN elements. The phone packs games, challenges, and some exclusive (of course, hidden) PAC-MAN content that users will have to unlock.
TAGS: OnePlus Nord 2 PAC-MAN, OnePlus