RIM Offers A Bunch Of Premium Apps For Free | TechTree.com
RIM Offers A Bunch Of Premium Apps For Free
Attempts to placate customers following recent service outage.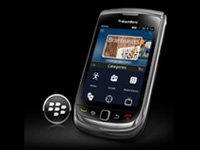 Research In Motion (RIM) has announced that a selection of premium apps, reportedly worth more than $100, will be offered free of charge to subscribers. According to the company, it is an "expression of appreciation" to its customers for showing "patience" during its service disruptions.

The premium apps will be available to download from BlackBerry App World, 19th October onwards. The offer is expected to continue until 31st December. Here is the list of apps that will be offered for free (with more to come):


SIMS 3
Bejeweled
N.O.V.A.
Texas Hold em Poker 2
Bubble Bash 2
Photo Editor Ultimate
DriveSafe.ly Pro
iSpeech Translator Pro
Drive Safe.ly Enterprise
Nobex Radio Premium
Shazam Encore
Vlingo Plus: Virtual Assistant
Additionally, RIM's enterprise customers will also be offered one month of free technical support. Current customers will be offered a complimentary one month extension of their existing technical support contract. For additional details on the program and registration, click this link.

TAGS: Mobile Phones, Apps, BlackBerry, ck