William Shatner Is Officially The World's Oldest Space Explorer | TechTree.com
William Shatner Is Officially The World's Oldest Space Explorer
William Shatner, who made a career out of playing Captain James Kirk of Star Trek, became the oldest space traveller at the age of 90.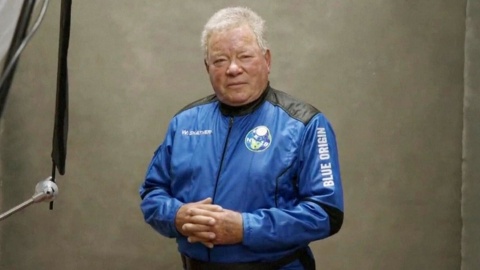 Image Credit : news.sky.com
William Shatner, who made a career out of playing Captain James Kirk of Star Trek, became the oldest space traveller at the age of 90. He was flown by Jeff Bezos's company Blue Origin.
Shatner was one of four passengers to journey for 10 minutes and 17 seconds to the edge of space in the white fully autonomous 60-foot-tall New Shepard spacecraft, which took off from a launch site about 32 km outside of Texas desert town Van Horn.
The crew capsule returned to Van Horn from the suborbital flight under parachutes, raising a cloud of dust. Shatner emerged gingerly from the capsule in the desert silence, appearing reflective as others celebrated by popping champagne bottles.
"What you have given me is the most profound experience I can imagine," Shatner told Bezos as the two chatted for several minutes. "I am so filled with emotion about what just happened."
The all-civilian crew experienced a few minutes of weightlessness, travelling about 106 km above the Earth's surface – higher than the Karman Line, which is the internationally recognised boundary of space, located about 100 km above Earth.
Shatner said he had prepared himself for experiencing weightlessness, but was stunned by the blackness of space and the magnificent beauty of the Earth.
"You're looking into blackness, into black ugliness," Shatner said. "And you look down, there's the blue down there – and the black up there – and it's just, there is Mother Earth."
"This is life and that's death, and in an instant, you know – whoa – that's death," Shatner said. "That's what I saw."
Shatner has been acting since the 1950s and is best known for playing Captain James Kirk. During the opening credits of each episode, Shatner called space "the final frontier" and promised "to explore strange new worlds, to seek out new life and new civilisations, to boldly go where no man has gone before."
Shatner's participation generated much needed publicity for Blue Origin as it competes against Elon Musk's SpaceX and Richard Branson's Virgin Galactic. All three space tech giants are trying to attract customers willing to spend enormous amounts to experience the wonders of space travel.
The space tourism industry could reach an annual value of $3 billion (roughly Rs. 22,590 crores) in ten years.
Blue Origin had a successful debut space tourism flight on July 20 with Bezos and three others. Branson inaugurated his space tourism business on July 11, riding along with six others. SpaceX debuted its space tourism service by flying the first all-civilian crew to Earth's orbit in a three-day mission ending September 18.
TAGS: space tourism