Google Pixel 6 Pro leaked in eight second video | TechTree.com
Google Pixel 6 Pro leaked in eight second video
Google jumped ahead of any possible news leaks about the Pixel 6 and Pixel 6 Pro by announcing the phones way back in August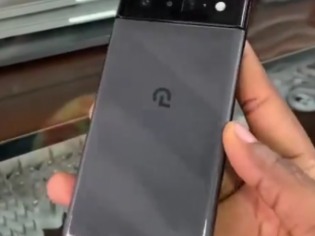 Google jumped ahead of any possible news leaks about the Pixel 6 and Pixel 6 Pro by announcing the phones way back in August, adding that they would run on the long-in-development Tensor chip. But it's possible that some leakers got hold of an actual unit. A video posted to Twitter by @thisistechtoday may be showing off a pre-production version of the Pixel 6 Pro, complete with its triple rear camera array.
Of course, Google hasn't shied away from sharing what the device will look like — even installing dummy units in its NYC store for people to gawk at.
The phone in this video appears to have a hole-punch selfie camera, and all of its buttons are located along its right edge.
https://twitter.com/thisistechtoday/status/1440385355258028032
Just like the Pixel 6 Pro renders that Google shared, the phone in this footage appears to have a metallic and glossy rail surrounding its raised camera bar, rather than the Pixel 6's darker, matte-textured rail. And the strange logo at the back is a dead giveaway that this is an early prototype.
What's notable is that the display is powered on, and the phone is shown at an angle that we haven't seen much of, outside of this new ad. Although it's a rather bland 360 degree glimpse, showing the same screen you see during the Android 12 setup process. The Pixel 6 Pro will have a 6.7-inch QHD+ screen with a 120Hz refresh rate.
We'll just have to wait for Google to fully take the wraps off the Pixel 6 and Pixel 6 Pro or when it will share prices and a release date. But it ought to be soon, perhaps sometime in October, if previous years are any indication.
TAGS: Google, Google Pixel, Google Pixel Smartphones, Pixel 6 Pro