Power up Your Device with U&i Charter – 10,000 mAh Powerbank | TechTree.com
Power up Your Device with U&i Charter – 10,000 mAh Powerbank
Smart and Stylish powerbank with in-built charging cables and LED indicator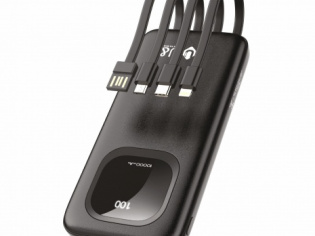 With the increase in the number of time spent on the cell phone, a power bank is a must-have accessory on the go. To overcome these consumer woes U&i a prominent name in the innovative and portable product market has come up with "Charter", a 6 in One Powerbank. This product is a combination of style and utility as it can easily slip into your pocket and is not bulky at all making it easy to carry around. It is a stylish and smart offering in the market with many notable features.
Charter is made using a superior quality alloy plastic shell which makes it dust and fireproof. Apart from this, it has an inbuilt intelligent safety system that protects the device from overcharging, high temperatures, and short circuits.
Speaking on the launch, Paresh Vij, Founder, and Director, U&i quoted, "The newly launched Charter Powerbank is value for money device, a combination of style and utility for our valued subscribers. Through this launch, we are expanding our powerbank range and we'll be looking forward to bring in superior and innovative products in the coming days."
Charter has a battery capacity of 10,000 mAh and is equipped with an LED battery indicator; which helps its users to keep a check on the battery, power left in the Powerbank, etc. The most phenomenal feature of this power bank is that it has 4-in-built charging cables with Type C, Micro, and Lightning connectors. Now, one can charge up to 6 different devices of 5V with the newly launched power with ease.
Features:
· LED Indicator
· Fire and Dust Proof
· Pocket Size and light-weight
· 10,000 mAh Battery Capacity
· In-built 4 charging cables with Type C, Micro, and Lighting connectors
· 2 Inputs and 4 Outputs with 5V devices compatibility
Pricing and Availability:
U&i Charter Powerbank is available in the market at an introductory price of INR 2,499/- through all leading retail stores across India.
About U&i:
Established in the year 2015, U&i is India's most progressive Gadget Accessory & Consumer Electronics brand. We at U&i offer our users the latest range of mobile accessories and gadgets at a compelling price. Our users can have an array of products from the latest and unique flagship of U&i gadgets. Our products are a perfect blend of innovative technology, unique design, and competitive price. We are committed to serving with the best in quality and innovative products and our key focus is on using creative designs, high-quality reliable components with sleek exteriors.
U&i team comprises a pool of experienced and talented workforce and having decades of experience in lifestyle products, designing, and e-Commerce technologies. The team spares no resources to bring out unique products at an inexpensive cost price.
Our Brand and products are endorsed by Bollywood big-wigs like Shahid Kapoor; one-stop-shop for branded and unique products.