Boult Audio launches 'ProBass X1-Air' In-Ear Earphones with Extra Bass, Fast Charging and 10 Hours Battery Life | TechTree.com
Boult Audio launches 'ProBass X1-Air' In-Ear Earphones with Extra Bass, Fast Charging and 10 Hours Battery Life
Ergonomic design for a comfortable fit, Aerospace-grade alloy micro-woofers for extra deep bass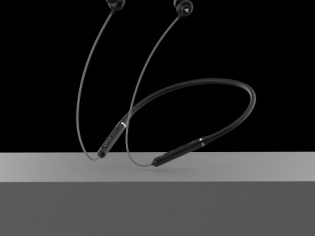 Boult Audio, a premium audio brand known for its innovative designs and superior audio quality, announces ProBass X1-Air, the latest addition to its ProBass range of neckband earphones. The new entrant boasts of aerospace-grade alloy drivers for extra bass performance apart from having a fast-charging battery and a runtime of 10 hours.
The Boult Audio ProBass X1-Air is a neckband-style in-ear earphones. It features a highly ergonomic design sporting oval-shaped buds for extra comfort and a snug fit. The new design incorporates a 60-degree angled tunnel and is well crafted for superior audio performance along with better passive noise isolation. Apart from being light and sturdy, the ProBass X1-Air is also designed keeping in mind its overall weight and balance so that it drapes comfortably around the neck.
The Boult Audio ProBass X1-Air boasts of superior audio performance – thanks to its micro-woofers that feature robust aerospace-grade alloy drivers for extra deep and crisp bass. The built-in micro-woofers produce deeper and distortion-free bass. The alloy drivers also produce crystal clear highs and stable mids even at higher volumes.
Lastly, the Boult Audio ProBass X1-Air is a powerhouse when it comes to battery life. Using a built-in fast-charging Lithium-ion battery, the X1-Air can perform continuously for 10 hours at a stretch before heading back to the charger. And thanks to the fast-charging feature, you can top-up the battery in just 1-1.5 hours. And if you are not using it as often, you can get up to 3 months of standby time.
The Boult Audio ProBass X1-Air in-ear earphones will be available in three colours – Black, Blue and Red for an exclusive price of just Rs 999 on Amazon.in and comes with a 1-year standard industry warranty period.
About Boult Audio:
Boult Audio is a high-end consumer electronics company that designs and manufactures innovative audio products. Boult strives to deliver the epitome of quality products, they are leading providers of premium audio, providing high fidelity audio experience along with supreme comfort. The company develops and delivers solutions that embrace innovation, superior value, and a highly satisfying customer experience. Boult has been committed to continuous improvement in delivering new value to its customers. Have a look at their products at www.amazon.in/boult & www.flipkart.com/boult
TAGS: Boult Audio