LG Velvet Dual Screen Review: A flagship phone that doesn't cost a bomb | TechTree.com
LG Velvet Dual Screen Review: A flagship phone that doesn't cost a bomb
The LG Velvet Dual Screen dual screen is a premium phone that focuses on user experience than just flexing its hardware muscle.
LG doesn't churn out many handsets like it used to do a few years ago. However, what it lacks in variety, it makes up for it in quality. More recently, South Korean brand has also started streamlining its branding. Gone are those confusing names such as G8X and V60. Its product names are now more memorable and relatable like Wing and LG Velvet Dual Screen. For the latter, this philosophy of simplicity runs deeper than that. The LG Velvet Dual Screen dual screen is a premium phone that focuses on user experience than just flexing its hardware muscle. It comes with all the features a consumer could ask for, but without the bragging rights of owning the fastest phone on the market. But, does that even matter to a regular consumer? Let's dive in to find the answer.
When less is more
After seeing a chockful of bulky handsets on the market, you can't help but appreciate how handy the LG Velvet Dual Screen is. The phone is perfect for one-handed use and is barely noticeable in a pocket. LG always made decent phones, but its previous design language with pastel colours and faux metal finish wasn't my cup of tea. Thankfully though, the LG Velvet Dual Screen's industrial design has no traces of old LG. With a clean look and tall design, the LG Velvet Dual Screen feels like a fresh breeze of air. It has a premium metal frame sandwiched between scratch-resistant Gorilla Glass.

The way these glass panels gently curve into the metal frame tells you a lot about LG's manufacturing prowess. Keeping with the phone's minimalistic design, LG has ditched the protruding camera module in favour of three separate modules placed in a series. According to LG, this arrangement is inspired by raindrops. Not sure if I see it that way, but it looks dope for sure.

The phone has an impressive screen-to-body ratio. It has virtually no bezels on the side. The chin is incredibly thin and the only thing that somewhat breaks the symmetry is a tiny notch on its forehead. But, it is barely noticeable compared to the large strip of nothingness on the iPhone 12.

This beautiful handset is tough too. As per LG, the handset is compliant with the US military's MIL-STD-810G specifications. In simple words, it can withstand water, dust, low pressure, temperature variations, humidity, and more. And while the military won't appreciate this much, the handset comes in Aura White, Aurora Green, Aurora Gray, and Illusion Sunset colours. So, whether you like restrained paint jobs or dual-tone finish, LG has you covered.

A no-compromise display
While some brands cut corners in the display department, LG has gone with a premium OLED panel for this handset. The 6.8-inch panel on this phone is perfect for media consumption. The OLED each pixel produces its own light. This means that individual pixels can completely switch off to render blacks. As a result, you get a stunning contrast, which is impossible to achieve on LCD screens. Moreover, OLED technology doesn't have other shortcomings such as uneven brightness or washed-out colours. In fact, the LG Velvet Dual Screen's display makes the colour pop-out.

The screen has a resolution of 2460 x 1080, which translates to a pixel density of 396 ppi. That's more than enough for media consumption and gaming. After buying the LG Velvet Dual Screen if you ever feel that its 6.8-inch display is not big enough, you can purchase a dual-screen case. This secondary display too is OLED has and has the same pixel dimensions. LG has already tweaked the software to take full advantage of the dual-screen setup. If you are into gaming, you can use the secondary screen as a controller. Or check emails while watching binge-watching your favourite series on Netflix.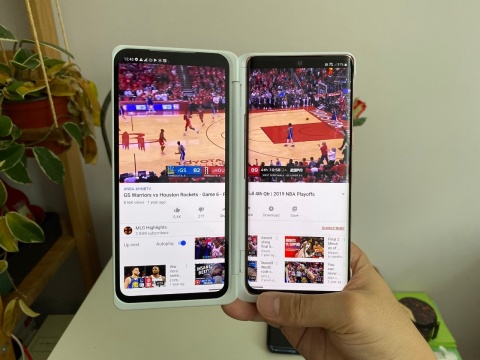 The phone is also compatible with Wacom stylus. This means that if you ever feel like unleashing your creative side, you can simply purchase a digital pen and get cracking. All these accessories are optional. It is good to see that LG doesn't want you to pay for a feature that you may not use at all.
Enough power to get the work done
At the heart of the LG Velvet Dual Screen is an upgraded octa-core processor from Qualcomm. It is coupled with plenty of RAM to take care of all the heavy multitasking. The phone effortlessly handles games such as Call of Duty mobile and Asphalt 9: Legends. Thanks to its 128GB internal storage, there is plenty of storage for your media collection. And if you somehow manage to run out of it, you can add up to 2TB of additional storage via the microSD card slot.
Tuned for music
From the time of LG G4, the Korean brand has been doing a great job of tuning its smartphone for music. And the LG Velvet Dual Screen is no exception. Paired with good earphones, this phone delivers a nice warm sound. It handles Bollywood, regional, western pop without any issue. But, it truly shines with classic rock from the 70s and 80s.

The phone has onboard stereo speakers, which are surprisingly good. Unlike how most phones sound tinny, the speakers on the LG Velvet Dual Screen successfully simulate depth to some extent. Moreover, even at high volume, these speakers don't distort as long as your source is clean.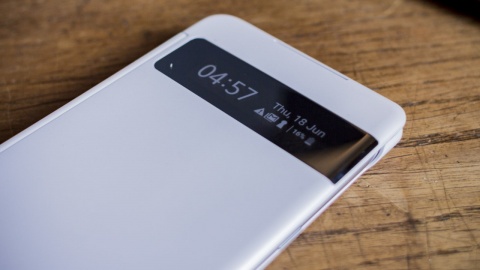 Photography
Like most flagship phones, the LG Velvet Dual Screen dual screen comes with a triple camera setup on its back. It has a 48MP primary camera, an 8MP wide lens, and a 5MP depth sensor. The camera interface is easy on the surface. But, offers plenty of elaborate setting if you prefer manual controls. For the most part, I found myself clicking in auto mode as LG's AI cam is quite good at optimising scenes according to the surroundings.

Coming to the subject of image quality, the 48MP shooter captures excellent images. Be it a bright sunny day or an evening house party, the primary camera doesn't disappoint. The same can't be said about the 8MP wide-angle snapper. It gets the work done but can't match the quality of the 48MP lens, especially in low light.

The LG Velvet Dual Screen supports 4K video recording capped at 30 fps. If you prefer a higher frame rate, you will be restricted to Full HD resolution. The phone uses Electronic Image Stabilisation to get rid of the shaky hand effect. And the results are quite pleasing. LG has also baked in a few interesting features that are unique to its line-up. First up is ASMR, which cranks up the sensitivity of the phone's microphone to pick up soft sounds such as rustling grass, raindrops, and hushed voice. Then, there's Voice Bokeh, which is kind of like background noise cancellation based on your subject selection.

With most people working from home, front-facing cameras are now more important than ever. Thankfully, the 16MP module on the LG Velvet Dual Screen will show you in good light on your team call. Moreover, it can also capture impressive selfies for your Instagram account.
Battery life
The LG Velvet Dual Screen comes with a 4,300 mAh battery. I'm sure it doesn't look good on paper but surprisingly lasts for a full day on a single charge. I guess the credit goes to the power-efficient chipset from Qualcomm and some impressive software optimisation from LG. To keep you away from the battery blues, LG has added 25W charging support to the handset. With a compatible charger, you can juice up the LG Velvet Dual Screen up to 70 percent in an hour. If you dislike the idea of yanking cables on your new phone, the LG Velvet Dual Screen supports wireless (induction) charging. However, it is quite slow at 9W.

Should you get one?
The LG Velvet Dual Screen isn't going to top Antutu or Vellamo benchmarks. It was never built with that intention. While putting this phone together, LG has picked all the essentials required to deliver a premium experience. And if someone wants added functionalities later, the company has provided an option to choose from its variety of accessories including a stylus and dual display case. More importantly, LG has nailed it with key features such as design, build quality, display, and performance. All in all, if you are looking for a premium phone that doesn't cost an arm and a leg, go for the LG Velvet Dual Screen dual screen by all means.
TAGS: LG, LG Velvet, LG Velvet Dual Screen