TCL initiates 'TCL QLED TV on Wheels', a Unique Roadshow to Promote QLED TVs
The roadshow aimed at driving engagement around TCL QLED TV sets while also underlining the brand's safety protocols towards its employees and customers as the economy advances to reopen
TCL, a global top-two television brand and leading consumer electronics company, has come up with an exciting concept - 'TCL QLED TV on Wheels', a stimulating roadshow to promote QLED television and Diwali offer on a beautifully-decorated van along with a huge Bahubali Helmet at the store entrance of Pai Electronics store, Kukatapally, Hyderabad.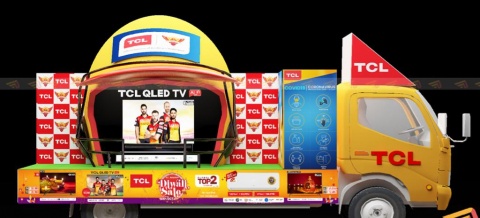 The roadshow was inaugurated in the presence of honorable guests, including Mr. Arun Kumar Tulsyan, MD Ayukata Industries; Mr. Prshant K Das, Business Head, PAI Electronics; and Mr. Massod Ali, Branch Manager TG, and AP, TCL. Post the ribbon-cutting ceremony, the invited guests distributed face masks to the customers and visitors. The roadshow also witnessed various engagement activities hosted by the promoters in jersey with the face cut out of SRH star players. This was followed by a flag-off ceremony of the van for the roadshow across Andhra Pradesh and Telangana that continued with the release of hydrogen balloons.
The brand is offering a great deal of offers for this Diwali on its high-tech products. The TCL 50' inch C715 QLED Tv is priced at INR 45,990 along with its recently launched 4k UHD model P615 starting at INR 30,990 and its existing S6500 starting at 12,490. Additionally there is a special festive offer on its Smart AC starting from INR 28,990 for 1.5 ton and INR 38,990 for 2 ton, also the installation is completely free with no cost EMI.
Mike Chen, Managing Director, TCL India, said, "With the festive thrills already around the corner, we welcome customers across Andhra Pradesh and Telangana to join the event and explore our latest QLED TV models and its cutting-edge features. Through this roadshow, we also want to reaffirm our commitment to ensuring safety to our employees as well as customers through distributing masks at PAI stores. At TCL, we respect the positive vibes of festivals and therefore, strive to make this time more rewarding and memorable for our customers. The roadshow is designed in line with this philosophy, and aims to attract customers by offering them our latest range of QLED TVs at appealing price points."
About TCL
TCL Electronics (1070.HK) is a fast-growing consumer electronics company and a leadingplayer in the global TV industry. Founded in 1981 in China, it now operates in over 160markets globally. According to Sigmaintell, TCL ranked 2nd in the global TV market in termsof sales volume in Q1-Q3 2019. TCL specializes in the research, development andmanufacturing of consumer electronics products ranging from TVs, audio and smart homeproducts.