UBON amps up its portfolio with all new 2.1 Dual USB and 10,000mAh Power Bank
The newly launched power bank comes with 10,000 mAh battery capacity in a compact design and glossy finish UBON PB X-22 BOSS POWER is priced at Rs.2999 and available across major online and offline platforms. Made in India, the power bank comes with a 1-year product warranty
India's leading Gadget Accessory & Consumer Electronics brand UBON launches UBON PB X-22 BOSS POWER in India at a striking price of Rs 2,999. Made in India, the key highlight of this newly launched portable Power Bank is its impressive 10,000 mAh battery the capacity that gives 500 life cycles along with a twin USB port which extends great functionality and convenience to the power bank. Another important USP of this gadget is its trendy and compact design which fits easily inside a palm and comes with a LED battery indicator at the top.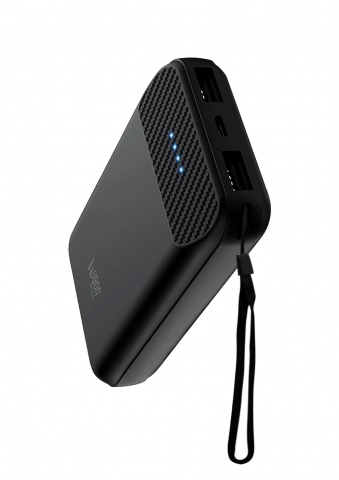 This Power Bank from the house of UBON comes with a 2.1 A dual USB which supports two-way fast charging. It comes equipped with a total 500 life cycles which provides safety during high-speed charging. This light-weighted UBON BOSS POWER Power Bank doesn't experience much capacity loss even after many charging cycles.
Manufactured at UBON's manufacturing facility in Delhi, UBON PB X-22 BOSS POWER is designed with a high gloss finish and compact body. It looks very trendy and easy to carry anywhere. This new product by UBON comes with a 1-year product warranty and a carry bag.
Commenting on this launch, Mr. Lalit Arora, Co-Founder, and MD, UBON said, "We are happy to launch our all-new PB X-22 Boss Power Power Bank. Even Amidst COVID19, our R&D team is working hard to provide best-in-class products to our customers. The newly launched power bank is designed keeping the work from the home scenario in mind. Professionals are working from home and coordinating with the team over the group chats which call for a need of a power bank which has a massive capacity and is easy to carry at the same time. This product is compactly designed to be carried easily and can charge your gadgets hassle-free while you are managing your work."
About UBON: - Incorporated in the year 1999, UBON headquartered in Delhi, is India's leading Gadget Accessory & Consumer Electronics brand that addresses the need for 'Connected Consumers' and 'People on the go'. With the proper R&D and the right use of technology, the brand offers products such as Bluetooth Speakers & Headphones, Earphones, Chargers, Cables & more than 125 accessories. UBON has also been awarded "the most promising brand of the year by The Economic Times in 2019."
Disclaimer: The story is in the form of a Press Release and has not been edited or reviewed for language or content. The content is published in the form that it was received by the editors after removing certain personal information such as contact numbers and emails. Techtree.com is not responsible for the veracity of this content
TAGS: Power Bank, UBON PB X-22 BOSS POWER, UBON