Astro Slide: 5G Smartphone and a PDA Too | TechTree.com
Astro Slide: 5G Smartphone and a PDA Too
UK-based Planet Computers seems to be integrating the past with the future with its new crowdfunded smartphone
First things first! The PDA in this headline does not mean public display of affection as some millennials are likely to mistakenly believe. These three alphabets are a relic from the early 1990s when the high and mighty used to carry this device that stored phone numbers, notes and sundry stuff that helped them get through a day with adequate reminders.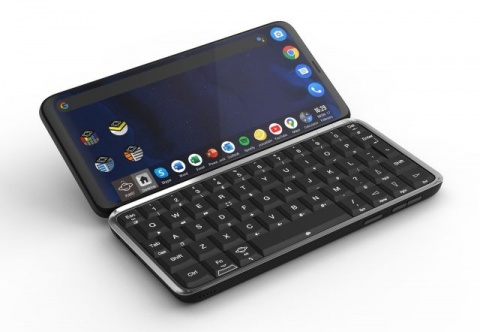 It was called personal data assistants (PDA), a term which even Google doesn't recognize today, because search for it and you'd be getting medical and social terms being explained. So, why are we ranting on about something from the past? Precisely because a UK-based company has launched a crowdfunded smartphone that combines the future with the past.
That's precisely what Planet Computers has done with its latest flagship Astro Slide, a phone with surprisingly good specs that doubles up as a PDA using a RockUp slide hinge mechanism. The device, currently promoted from American crowdfunding website Indiegogo showcases how the device "transforms the 6.53-inch touchscreen phone into a mini laptop, featuring Planet's signature tactile backlit keyboard.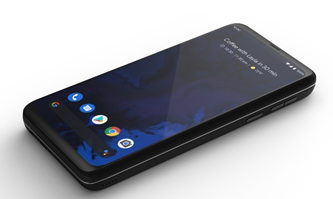 The makers believe that Astro Slide would be best for emails, messaging and editing documents besides of course functioning as a phone and a camera. The device comes with dual 5G and Wi-Fi6 communications and runs on Android 10 OS with a multi-boot option for supporting Linux. What more can geeks ask for?
The hinge on the phone allows users to slide screen off and flip back to reveal a keyboard that can function as a mini laptop. A tiny QWERTY keyboard reminds us of the pre-smart touch screen era which may be a bit of a culture shock for millennials, who are prone to make less fat-finger errors on a touch screen than older individuals.
In case, the user is checking an email and responding to one, she can easily switch the touch screen back into place to attend calls or click a quick snap. Some of us may recall the Cosmo Communicator which was more of a clamshell phone with a QWERTY keyboard in tow that would simply slam shut without any sliding tricks.
The phone does pack a decent punch with the MediaTek Dimensity 1000 chipset capable of handling 5G networks sitting under the hood. The company claims that the processor can deliver twice the performance of any other 5G chipsets with significantly reduced power consumption. Then there is a 48MP rear camera and a front selfie shooter to boot.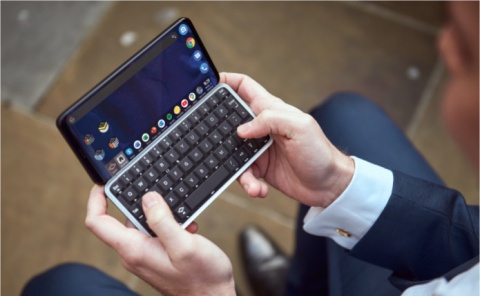 There's 6GB of RAM and an eSIM slot in addition to two nano-SIM slots already placed inside the phone. The 128GB of storage is also expandable with a MicroSD slot provided for. The device weighs about 300g which could make a significant impact on one's back pocket at a time when most smartphones weigh two-thirds of that.
The Astro Slide has gone on sale last night, priced at $491 with estimated shipping to happen in a year's time. Which could be the problem as we've seen in the past with crowdfunded projects announced with fanfare on Indiegogo that never actually take off. However, Planet Computers has been consistent with its products in the past, as those who bought the Cosmo Communicator would suggest.
Image Courtesy: Planet Computers
TAGS: Smartphone, PDA, astro slide, planet computers, Android, Indiegogo