The Ultimate Shootout: Galaxy S10 vs Galaxy S20 | TechTree.com
The Ultimate Shootout: Galaxy S10 vs Galaxy S20
Cut out the jazz from Samsung's latest smartphone and you may find that it makes better sense to own its predecessor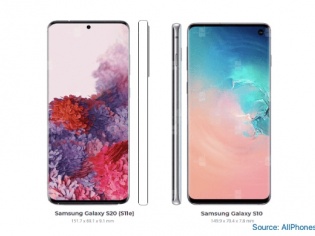 Now that the din and bustle around Samsung's Galaxy S20 and the Galaxy Z Flip is dying down, it is time to actually take stock of what these two devices offer that its predecessors didn't. For example, does going 5G really matter when the world is still a couple of years away from the new networks? Or would the flip phone turn out to be a flop as its predecessors have?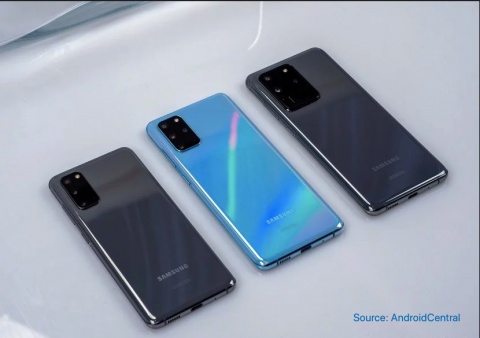 Without an iota of doubt, it must be stated unequivocally that Samsung's new devices are eye candy. While the Galaxy Z Flip is a smartphone that owners would be proud to show-off, the Galaxy S20 is everything that the iPhone has been and some more. The sleek design, the ergonomic looks and the top-notch cameras make them every neighbor's envy.
These phones are big, they are ultra-deluxe and super powerful. They have features that signal the way forward for smartphones – there's the 5G, the sharper screens with 120Hz refresh rate and cameras that are drool-worthy with processing power that makes the best of laptops look sluggish.
Here's a quick look at what the latest Galaxy offerings compared with their predecessors: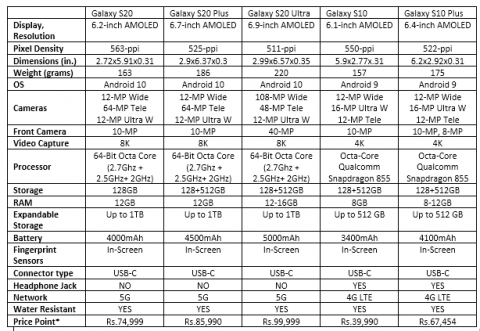 (Note: * - Galaxy series prices from Smartprix.com)
Now that we've listed out a basic comparison, let's delve a bit deeper to understand whether beneath the sheen, the flips and the 5G is there anything that the latest launch offers that its predecessor doesn't? Apart from the huge cost difference and the likely discounts that Samsung and its dealers would offer on older models…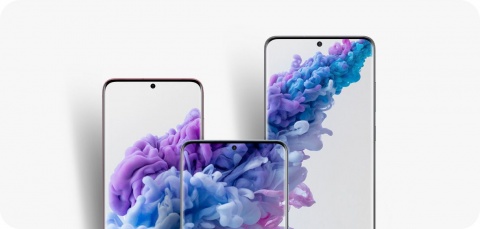 For starters, why would anyone boast about 5G compatibility when the network is some years away from making its presence felt? Even in the United States, 5G networks are reported to be flimsy and the coverage more than abysmal. So why would anyone want to acquire technology that isn't even functional in the region? And we aren't even talking about the robust mmWave capabilities.
Now let's look at the cameras on offer. The 40-MP and 108-MP shooters appear sci-fi but how many of us actually use our phones for professional style photography? Not to forget the fact that the pictures we take are never displayed on native resolution devices having 4K or 8K displays. By default, we use the photos with stepped down resolution and file size to save bandwidth and storage. Not to mention the fact that Facebook, WhatsApp and Instagram compresses everything one uploads.
Coming to the processors, if one isn't addicted to gaming and that too cloud-based fun, what are we going to do with all this power? And how is it going to impact our usage when the network is still 4G? It would be akin to driving a Formula-1 car through a crowded street – there'd be lots of engine growl but little else to boast.
The same goes with the storage. When the world and their uncles are moving to cloud-based storage, why would anyone want to lug their data around on the device? Even if one is using the phone as a business machine, isn't 1TB an extravagance for most of us?
It is not as if the Galaxy S20 doesn't offer anything favorable. The batteries on all three new models take them into a different league and this is something that every competitor would try to at least match, if not beat in the coming months. So, kudos to Samsung for taking the benchmark for batteries a few notches higher.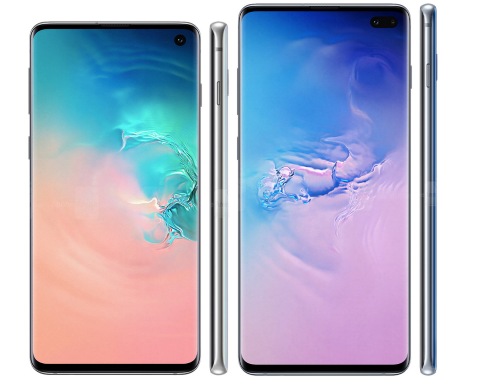 Amidst all this din and bustle, Samsung did announce something that should be music to our ears. They announced price cuts of up to $200 on the original launch prices of the Galaxy S10 and Galaxy S10 Plus. This number could witness a further spike in the coming months when Apple launches the iPhone 9 and Google comes up with the Pixel 4A over the next few weeks.
So, in case you are among those who is seeking to upgrade an Android phone, do not be taken in by the glitter and jazz of Samsung's new launches. Step aside and pick the Galaxy S10 or the S10 Plus as they would stand you in good stead for at least another two to three years.
TAGS: Samsung, Samsung Galaxy S20, S20, Galaxy S20 Plus, Galaxy S10, Samsung Galaxy S10, Galaxy S10 Plus