Google's Thumbs Up to Environment Protection | TechTree.com
Google's Thumbs Up to Environment Protection
The company uses 3D scans to recreate historical sites across the world that are threatened by climate change
At Davos, when Greta Thunberg asked the world to panic and act as if our houses are on fire and then went on to assert that they were, we had no way to see how the scene would play out. However, with Google's new tool one no longer needs to imagine as it depicts the effects of climate change across select heritage sites.
This is a part of Google's "Heritage on the Edge" project where it uses 3D mapping, photo geometry and drone footage to monitor how climate change has affected some of our most treasured monuments. Currently there are exhibits on the page that includes five World Heritage sites.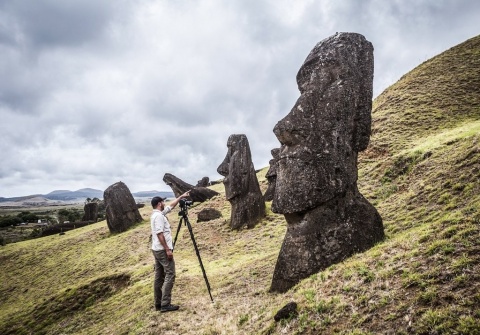 These are the Rapa Nui (Easter Island), Kilwa Kisiwani (Swahili Coast), Old and new towns of Edinburgh (Scotland), the Mosque City (Bangladesh) and the city of Chan Chan (Peru). The 3D tool allows users to explore 3D models of the sites, embark on street tours and figure out how each of these and many others are endangered by climate change.
Of course, these models cannot prevent the heritage sites from eventually succumbing to heavy rains or rising sea levels, but Google is obviously that their efforts will spur more affirmative action around climate change. And, in the worst case, a digital record of these historical sites would be preserved.
What Do You Get to See?
Upon clicking on any of the heritage sites, a brief history of what it looks like today and the cultural significance of the place is given. Thereafter, we can check out a graphic depiction of how the place degenerated over the ages such as how Edinburgh Castle is facing the threat of corrosion due to groundwater flooding and landslides.
Thereafter, one can get further up close and hear the locals in each of these regions speak about the importance of the heritage sites and how climate change is impacting them and what measures they are taking to tackle it. We have locals from Bangladesh talk about the Mosque town or the Tanzanians speak of their efforts to preserve the oldest mosque in Kilwa Kisiwani on the Swahili coast.
How did Google Do it?
In a tweet from its official handle, Google said the online experience was a result of their collaboration with CyArk, a not-for-profit digital archival company working with heritage sites. The models were created with some support from the International Council on Monuments and Sites that works for conservation and protection of cultural heritage sites.
The project team is hoping that these efforts would empower people by putting technology at their service in order to preserve endangered sites, says Chance Coughenour, program manager of Google Arts & Culture, which has been responsible for creating this experience as part of their social obligation exercise.
"At the same time, we wanted to elevate the stories of the people to whom these sites mean the most, showing the human cost and historical value of climate change destruction." The new initiative is part of a larger undertaking dubbed Open Heritage in which Google Arts & Culture documents challenges facing historic places around the globe.
TAGS: Google, Heritage Sites, 3D Imaging, Environment, Climate Change