Instagram's IGTV Losing the Battle with TikTok | TechTree.com
Instagram's IGTV Losing the Battle with TikTok
Having launched its short video application 18 months ago, why is Instagram suddenly removing the orange button from the home page?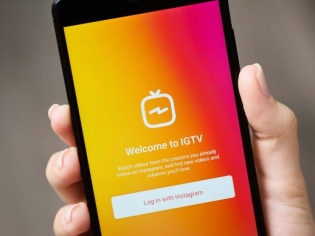 When Instagram launched Reels with a limited coverage in November, we felt that the company has woken up to the threat of Chinese social media player TikTok and were expecting its widespread launch across more countries. Maybe, that is the reason that Instagram has suddenly done away with that orange button from its homepage that took users to its IGTV videos.
This, in spite of the fact that since its launch in the summer of 2018, IGTV boasts of seven million downloads of its standalone app, which when compared with Instagram's billion-plus users appears inconsequential. And when juxtaposed against TikTok's massive numbers, one might say that there is enough reason for Instagram to banish that orange bit from its home page.
A report in TechCrunch.com quoted from a survey it commissioned with Sensor Tower that suggested a vast discrepancy in the number of IGTV downloads compared to those of TikTok's during a select period. It said that while the Chinese social platform was downloaded 80.5 million times, for IGTV the number stood at a meagre 1.1 million.
However, one needs to put things in proper perspective as Instagram wasn't supposed to be taking on TikTok in the first place. When Facebook acquired the company almost eight years ago, it was supposed to be a competitor for YouTube, owned by its arch-rival Google. Videos of up to an hour in length could be uploaded on to IGTV with Instagram celebrities being the first targets.
The TechCrunch article quoted an Instagram spokesperson to suggest that they decided to remove the orange button due to the fact that very few people clicked on it, preferring instead to view IGTV content through previews in the feed or directly via the explore feature or creator profiles on the standalone app.
In other words, the company was merely removing something that wasn't catching people's eye. Of course, there is also the matter of creating real estate on the valuable home page, which is what we believe this could be. When the company launched the video-music remix feature last November, they had created apps for both Android and iOS versions suggesting that the idea was a long-term one.
Currently available only in Brazil, Instagram Reels allows users to create 15-second video clips set to music and share them as Stories on platform with the potential to go viral on a Top Reels section. The company, while admitting that it would be a challenge to get its users to step up from posting images and feeds to create videos that requires some creative effort.
At the time of launch, Instagram Director of Product Robby Stein had given a thumbs-up to TikTok and Musically for popularizing the format and argued that while no two products work exactly the same, sharing video and music was a pretty universal idea that he believed would kick-in with Instagram users too in the fullness of time.
And as for IGTV, its bigger challenge would be to convince its users that there is money to be made through making videos on the platform, just as YouTube did with its early adopters. Till such time that it can do so, the future of IGTV would remain in the hands of the celebrities who appear to be using it full tilt to promote their movies and fashion brands.
TAGS: instagram, YouTube, Analytics, Data Analytics, IGTV, Reels