Satya Nadella Gets a Photo-op With the Surface Duo | TechTree.com
Satya Nadella Gets a Photo-op With the Surface Duo
The new smartphone from Microsoft is raising expectations ever since it surfaced at the October 2019 event where the company unveiled the smartphone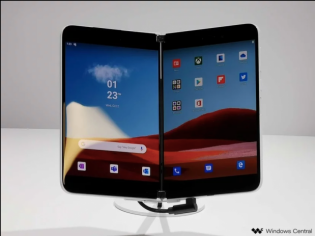 The world has been watching patiently as Microsoft makes yet another attempt to take on the star-studded smartphone market with its Surface Duo and Surface Neo. The company had unveiled the devices last October with the promise that subscribers can get their hands on the hardware by the 2020 holiday season.
Just to prove the point that the smartphone is indeed surfacing on time, Microsoft seems to have accidentally-on-purpose organized a photo op with CEO Satya Nadella who can be seen holding the gadget during an intense discussion with Brian Sozzi, Editor-at-Large of Yahoo Finance during an interaction earlier this week. Of course, the editor wasted no time in sharing the snap via his Twitter handle.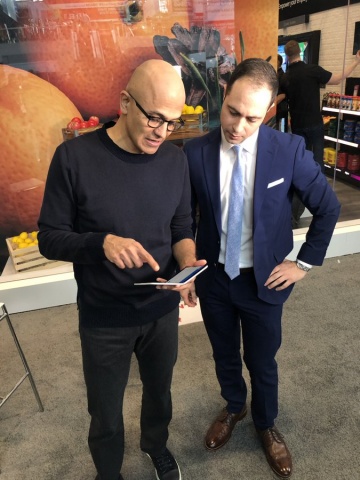 The contours of the phone in Nadella's hands gives us a clear indication of how pocket-friendly the device will be when Microsoft implements its promised two-pronged approach to dual screen devices. With the Surface Neo and the Surface Duo, the company is hoping to make it big through its dual-screen approach on both PCs and smartphones.
Both are keeping away from the folding display tech that competitors have been going after in recent times, instead favoring two discrete displays. The gadgets would run the latest Windows 10X and by the looks of it, the prototype is in excellent working condition and as a result we can be quite sure that the launch date won't get postponed.
When the Surface Duo was launched last October, there were several questions around it that didn't really get answered. Some of these include:
Is it an Android phone? To which Microsoft responded saying it wasn't actually a smartphone and that it essentially doubles screen space for users. Would the phone run on Windows 10X? Or would it go with the latest Android software? And would it actually compete with the Galaxy Fold or the Moto Razr? Doesn't look like it.
How much would it cost? For starters, they may not cost as much as the Galaxy Fold as the phone isn't exactly a foldable phone but achieve the same goal by doubling screen space for watching videos or typing and playing games. With 5.6-inch screens and a hinge, the phone isn't foldable but functions like one. Anywhere about $1,500 and it's off!
Is the Surface Duo 5G enabled? Yet again there is some confusion. Why would a phone launching in 2020 come with 4G data speeds? The Surface Duo that Microsoft showcased in October ran on Qualcomm Snapdragon 855 chipset that has 5G capability if there's the right modem at hand.
What about the Apps? The demo video showed a finger dragging apps across both screens and watching them in a split-screen view. Okay, native apps would work that way but what about those coming from third-party app manufacturers? There is no clarity how the center seam will appear while watching a video or playing a game. Only time will tell.
And what about cameras? The Surface Duo showed only one which compares rather poorly with Galaxy Fold's six. Of course, it's too early to say how Microsoft plays to fix the cameras and how many of them the gadget will have. In an era where image quality is a key differentiator, can Microsoft still spring a surprise on this front?
Now that Satya Nadella has brought the conversation back to the front pages, it may be worthwhile to keep close watch on the updates about Surface Duo which could make or break Microsoft's reputation in the smartphone market, given that this is their first offering after several long years.
TAGS: Microsoft, Satya Nadella, Smartphone, Surface Duo