Asics Launches Smart Shoes at CES 2020 | TechTree.com
Asics Launches Smart Shoes at CES 2020
The working prototype offers data tracking and real-time analysis to help runners track energy usage and feet positions upon landing and length of stride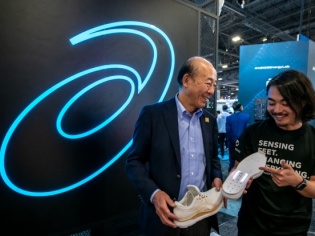 Japanese footwear brand Asics hit the straps with an innovative pair of running shoes at the CES 2020 that quite literally brings computing to one's feet. The hitherto unnamed pair of running shoes is capable of providing real-time data on factors such as length of stride, pressure on landing and energy usage to runners.
In a statement, the company suggests that this was the first time it was opening up the company's Energy Research Lab and the Asics Institute of Sports Science to the public to showcase how technology can help users take up sporting activities with the belief that their footwear would never be out of step with their goals.
The company, which partners with the sensor company No New Folk to create smart running shoes, seems to have taken the technology to the next level from that of the Orphe Track shoes that has been available in Japan for quite a while now. It boasts of a small six-axis motor sensor inside besides a pressure and vibration sensor all controlled by a microcomputer.
These shoes are currently available only in Japan and at around $300 a pair could burn a decent hole in one's pocket. There is however no indication about the pricing of the new Asics model or the time by which the prototype would be production ready as company executives took pains to explain that the final design wasn't yet ready.
The company's statement said the first shoes would be out in 2020 though there was mention of the exact timeframe for the launch.
Fundamentally ASICS believes that running is all about the experience. To mark its first visit to CES and to introduce its most recent acquisition, Race Roster, the company invited all visitors to an open 5K run, hosted by President & Chief Operating Officer of ASICS Yasuhito Hirota and Race Roster founder Alex Vander Hoeven.
"Coming to CES is a springboard moment for ASICS sports innovation. We always strive for perfection, and that's why we waited until now to have our own booth at CES. I'm really pleased to be showcasing the incredible innovation that is normally hidden away in our ISS labs, especially in a year that is so important for sport, for Japan and – of course – for ASICS as well," said Hirota.
"One of our core strategies at ASICS is to enrich sports experiences through digital technologies, and here at CES 2020 we're so excited to welcome visitors into our Energy Research Lab and share what we've been working on at the Institute of Sport Science," said Kenichi Harano, Executive Officer and Senior General Manager of ISS.
TAGS: Asics, Energy, Smart Shoes, CES 2020