ASUS Launches O!Play Mini Plus | TechTree.com
ASUS Launches O!Play Mini Plus
Adds network capability with Facebook support.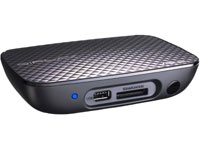 After tasting big success with its O!Play HD and O!Play Mini media players, ASUS has now launched the O!Play Mini Plus, which has everything its predecessor has got and also network capability. The new HD media player also has built in app to access Facebook!

ASUS O!Play Mini Plus looks exactly like the O!Play Mini in the front view with a USB 2.0 port, a memory card reader, a power LED, and an IR port, maintaining the same small form factor. However, things are different when you take a look at the rear of the player, where you will notice, in addition to the HDMI port and optical audio-out, additional Gigabit Ethernet and eSATA/USB 2.0 combo ports. Also, the composite RCA outputs have been replaced by a single A/V out port through which, the bundled A/V cable handles the rest. The remote control is also longer in order to accommodate the additional function buttons.

ASUS has claimed that this is the world's first HD media player with integrated Acetrax and Facebook support. As you may already know, Acetrax is a popular online video on demand service in Europe. The player also lets you connect to Mediafly, Dailymotion, YouTube, Picasa, Flickr, and thousands of internet TV and radio stations. Sharing of photos and videos has also been made possible at the press of a button using O!Direct and O!MediaShare. The in-built Wi-Fi connection facilitates connecting wirelessly to any supporting internet source. Just like the earlier models, this player also supports just about every audio, video, and photo format out there.
The ASUS O!Play Mini Plus is available for an MRP of Rs 7,949 (plus taxes) with a 1-year warranty.

Update: Facebook and Dailymotion support will be available through a firmware upgrade by the end of October 2011.
TAGS: Media Players, ASUS, Jayesh