Zeb Sound Bomb Earbuds Is Value for Money | TechTree.com
Zeb Sound Bomb Earbuds Is Value for Money
Amazing sound quality and Bluetooth 5.0 for great connectivity makes the Zeb-Sound Bomb a decent and affordable wireless earbud at Rs. 2429
Apple announced their first ever AirPods back in 2016 and since then several companies are manufacturing AirPods to match the same level. Zebronics recently launched its new ear pods calling it the Zeb-sound bomb. We took a moment to review the product:
What's in the Box:
Zeb sound bomb comes with a two bulky looking Ear Pods with a charging case, some extra earbuds if required and type-C charging USB – quite the standard stuff that one expects to find after so many such products hit the market. The packaging gives a distinct non-luxury feel, given the fact that the company's TG is one that is seeking affordable ear pieces. Zebronics claims a six-hour playback with the charging case capable of three times charge at a go.
Battery & Charging:
To start with Zebronics claim of a battery life extending up to 18 hours seems to be just that. As a matter of fact, to expect something like this is a big burden for this small device. However, the Ear Pods does give about four to five hours in a single charge with a fully charged case capable of keeping the ear pieces going for thrice the time. The case has a type-C port to ensure faster charging and the overall battery performance is quite kosher for a product in this price range.
Performance Matters:
The Zeb-Sound Bomb is splash proof but this is not the device we will personally take into the water. Having said so, the Ear Pods could handle a few splashes of water during a gym session or in light rain. However, we do recommend that the Ear Pods be kept away from rain as they contain an electric chip that is pretty close to one's ears.
The sound quality is quite good and is in sync with the Sound Bomb in the name tag. It produces good quality bass and treble with clarity that is once again market leading in this price segment. Of course, one may find the sound quality a bit off at high decibels but then that's not the purpose of these small and sprightly gadgetry that resides within one's ears.
Zeb-Sound Bomb has Bluetooth 5.0 connectivity that itself makes a statement of very stable connectivity device. Auto connectivity also works fine on these EarPods.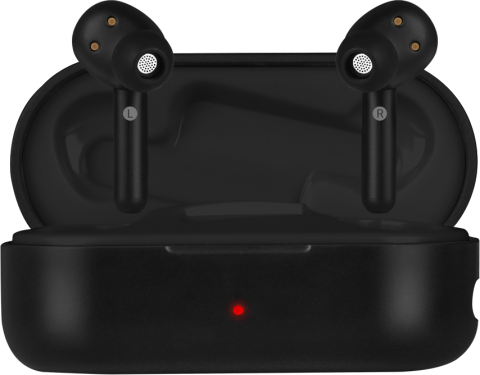 The Zed Sound Bomb comes with touch control which is not really intuitive for the users. Their demo video makes them look and sound quite easy but for beginners there could be a few hit and trials required before one gets used to the touch controls. Not a bummer by any sense, but here's something that the company could focus on when they upgrade.
And, now the bad news! The Ear Pods simply fails to get the best of sound when one is making phone calls. Is it something to do with the Bluetooth or are the Ear Pods not responding to irregular sound is something we need to research some more. For now, all that one can say is that the sound quality during a phone call seems to drop significantly compared to when music is playing.
Our Verdict
The Zeb-Sound Bomb works well as a companion during that morning jog or the workout at the gym. Even that journey to the workplace becomes quite musical with no fear of the battery suddenly dying out midway. At the price point, the gadget is a steal and the sound quality, though not pitch perfect, is more than good enough to be a constant companion. Of course, if you happen to get a call in between, there may be some challenges.