Big Guns Join Hands to Define Smart Home Standards | TechTree.com
Big Guns Join Hands to Define Smart Home Standards
Smart homes aren't all that smart given that cybercriminals are getting smarter, and industry is now covering the flanks by creating a must-have security list for smart gadgets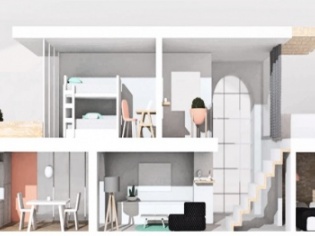 When Amazon, Apple and Google join hands, it is big news. Even if they are doing so to ensure that the world gets an open-source smart home standard to which manufacturers, software developers and the rest can adhere to so that new devices are developed easily and users can rest assured that their security is guaranteed.
What's more these three 800-pound tech gorillas have the support of the rest of the smart home industry as well. They've created a group called Project Connected Home over IP which also boasts of the Zigbee Alliance – the makers of another smart home protocol that boasts of memberships from Samsung, Ikea, SmartThings etc.
And what do they plan to do? As Todd Haselton writes in CNBC.com, "Amazon, Google and Apple are all competing for people to buy products that work with their in home-systems and are still trying to build a solution that's simple for everyone to use. But the competition itself has created a really confusing landscape for consumers and manufacturers of smart home products."
With the market for smart home devices expected to grow over 20% in 2020, customers would find issues of interoperability staring at them where one home product may not talk to the other from a different brand. This is where the Project Connected Home is aiming to make a dent by ensuring that competing products talk to each other over IP.
"The project is built around a shared belief that smart home devices should be secure, reliable, and seamless to use. By building upon Internet Protocol (IP), the project aims to enable communication across smart home devices, mobile apps and cloud services and to define a specific set of IP-based networking technologies for device certification, say the companies in a joint press release.
The group's website says that it would first focus on physical safety smart home devices such as smoke alarms, smart locks and security systems before shifting to the other types of devices and commercial solutions. The main purpose of the project is to create a connectivity standard designed to increase compatibility across brands and devices.
So, going forward the smart home devices may just listen to and understand the language of Alexa, Google Assistant or Siri. In addition, the project would also focus on security and privacy that has been the talking point for some time now, given that vulnerabilities that researchers have found in many of the smart home components in recent times.
The group is looking to leverage the market-tested smart home technologies from Amazon, Google, Apple and the Zigbee Alliance to accelerate the development of a protocol and deliver benefits to both manufacturers and consumers, the statement says adding that the planned protocol would complement existing technologies, not attempt to replace any of their individual efforts.
In a blog post, Google says that developers would benefit from the connectivity standards as it simplifies product development and reduces costs by giving them one standard for building their products. This would enable customers to choose how they want to control their homes, independent of which smart technology they have.
And when do these behemoths expect the protocol to be ready? To quicken development, the Project intends to start with components of market-tested technologies, modified as needed. The Working Group has a goal to release a draft specification and a preliminary reference open source implementation in late 2020.
Does this mean that customers should postpone their smart home purchasing decisions till such time? Well, Project Connected Home over IP has no advice on this front at this point it time.
Not surprising! Given that these 800-pound gorillas still have to sell their gadgets, with or without the common protocols!
(Tags: Google, Apple, Amazon, Siri, Assistant, Alexa, Project Connected Home, Smart Homes)
TAGS: Google, Apple, Amazon, Siri, Apple Siri, Google Assistant, Alexa, Project Connected Home, Smart Homes