OTT Platforms Crackdown on Password Sharing | TechTree.com
OTT Platforms Crackdown on Password Sharing
Artificial Intelligence might soon make it impossible for us to share OTT password details which means there's no way the same creds would work out of two locations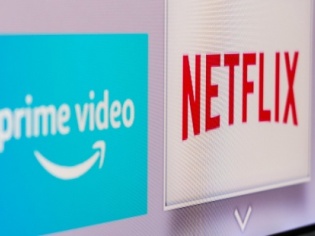 Take a look at this picture. Does it make sense? If it doesn't, take another look and most of us would recognize ourselves somewhere along the hierarchy! For, this is exactly how consumers create a freeloader network, without once considering that our combined efforts translates into substantial losses for those who rely on our integrity.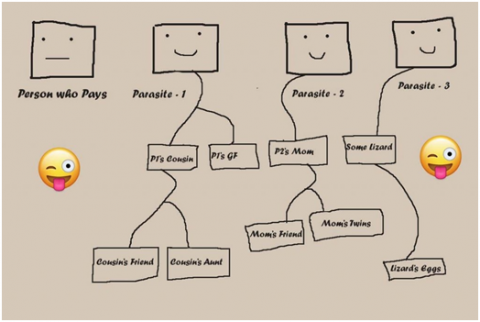 Image via Viral Telecast
Well, integrity be damned! Sharing user coordinates to watch our favourite shows on the OTT platform is a recent phenomenon. Ask companies working in the field of market intelligence and they'd have many stories of how a single username-password was used by an entire organization to glean away data that cost time and effort to accumulate and should have been adequately compensated.
Or see how many individuals end up reading a single newspaper that is bought by a needy passenger on a railway train? Within the next three hours, the poor rag would find itself spread across an entire compartment.
By the way, this tendency to freeload isn't in any way related to geography and is prevalent all across the world. So, my dear fellow Indians, there's nothing special about us when it comes to freeloading or should we say not paying for services that we consume.
Which is why a solution to this age-old problem is being developed by a UK-based company. Synamedia has unveiled an AI-based solution for service providers (like streaming platforms) to track down illegal sharing of login credentials for active accounts. The solution, Credentials Sharing Insight, will be showcased at this year's Consumer Electronics Show at Las Vegas (CES 2019).
Over-The-Table (OTT) streaming platforms like Netflix, Prime Video, Hulu et al lose billions of dollars of revenue every year to password sharing. Consulting firm Parks Associates has predicted that close to $9.9 billion worth of pay-TV revenues and $1.2 billion of OTT revenues will be lost to password sharing by 2021, as cited in a Synamedia statement
"Casual credentials sharing is becoming too expensive to ignore. Our new solution gives operators the ability to take action. Many casual users will be happy to pay an additional fee for a premium, shared service with a greater number of concurrent users. It's a great way to keep honest people honest while benefiting from an incremental revenue stream," said Jean Marc Racine, CPO and GM EMEA of Synamedia.
Despite the lowest data rates in the world (although this is set to change soon if you're on Vodafone or Airtel prepaid), one wonders why Indians find it necessary to circumvent the rules. After all, it's not like streaming platforms are particularly stringent in their norms. Netflix, for example, allows for a single account to have 6 registered devices, 5 profiles, and while under the basic plan you can only stream from one device at a time, upgrading your account will allow you to stream from up to four screens simultaneously.
Amazon Prime Video doesn't even have a limit to the number of devices; the caveat, though, is with simultaneous streaming. You can stream up to three different media at the same time on different devices, and the same title can only be streamed on two devices at one time.
Hotstar, popular for its live TV and sports streams, allows for simultaneous streaming on up to 6 screens.
Now let's look at the pricing plans, starting with the simplest: Amazon Prime. For either Rs 129 per month or Rs 999 per year, you get access to Prime Video, Prime Music, Prime Delivery, and Prime Deals. Bang for your buck, that's cheaper than Netflix's basic Rs 499 plan, or even their Rs 199 mobile plan for India (since mobile plan users don't get all the features of the service).
Hotstar's plans are tailored according to your preferences- the 365 VIP plan is only Rs 365 per year, and offers ad-free access to live cricket, Premier League and F1 broadcasts. It also offers the latest episodes of Indian TV shows, as well as recent Indian movie premieres and Hotstar Special content. Meanwhile, the Premium plan is priced at Rs 299 per month or 999 per year- it makes a lot more sense to go for the latter- and basically gives you access to… well, everything Hotstar offers.
Among American millennials and post-millennials, the prevalent thought is that creative content should be free and accessible to everyone. However, that is not just unrealistic but hypocritical, coming from a demographic that insists on the dignity of work and the importance of being paid and credited for the time, effort, and material input expended in the creative process. There is also the fact that millennial incomes are lower and living costs are higher, which means that not everyone can afford the basic subscription fee. But that's a debate on capitalism, human rights, and morality that no one's going to win.
However, in India, the situation's a little different: anyone who has driven on Indian roads will know that to the average Indian, rules are made to be broken. And technically, since none of the OTT platforms have ever said password sharing is against the rules, it's fair game. Until- probably- now.
Recent reports suggest that Netflix, Amazon, Disney and others are planning to come down hard on password sharing, due to the immense revenue loss to them. A Bloomberg article from last week reported that a 'coalition' of OTT platforms and cable-TV giants are 'considering an array of tactics to cut off people who borrow credentials from friends and relatives to access programming without paying for it. The possible measures include requiring customers to change their passwords periodically or texting codes to subscribers' phones that they would need to enter to keep watching'.
One argument would be that password sharing is like borrowing a library book on your card for your friend to read. That's, broadly speaking, true – but don't think that librarians wouldn't curb this if they could. But they can't, and by the way, your library card is meant for you (and any other included beneficiaries). You're not supposed to lend your friends books off your card – its like illegally sub-letting a flat. The difference is that you can get away with one and not the other.
And if the Credentials Sharing Insight has any takers, not this either.
TAGS: OTT streaming, Netflix, Amazon Prime, Amazon Prime Video, Hotstar, video streaming, AI, Password, password sharing