Adios Laptops; Hello Mini-Personal Computers! | TechTree.com
Adios Laptops; Hello Mini-Personal Computers!
Laptops came as a welcome replacement for bulky desktops which are making a silent return in the form of mini workstations with portable display, touchpads and oodles of processing power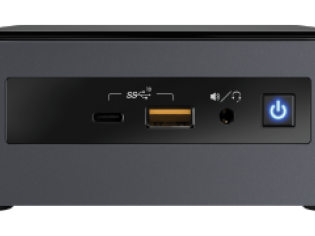 Many of us would still recall the days when a bulky piece of metal and an equally cumbersome plastic box occupied a substantial corner of one's flat under the garb of being our personal computing partner. With the advent of the new millennium, those bulky PCs were replaced by smart laptops that brought mobility to computing.
However, the PC appears to be making a grand re-entry and those who swore by their power over laptops and the vast difference in costs, are now grinning from ear-to-ear. The new age PC have been designed for more power whereas the laptops are getting slimmer at the same pace as mobility around town is getting tougher due to traffic and pollution.
The portable PCs and their mini versions are now providing solutions that may tackle both these challenges. Till such time as this actually happens, we at Techtree.com thought it fit to provide you with a curated list of mobile yet power PCs that costs just about as much as a good laptop. Here goes our list:
HP Z2 Mini G4 Workstation: This is a Mini PC considered among the most powerful in the market and yet weights around 2 kg. Z2 mini is a prime workstation powered with a 6-core Intel Xeon E-2176G processor, 32GB of memory expandable to 64 GB, Nvidia Quadro P1000 ISV-certified graphics, and a combination of storage options such as 1TB 7200 rpm HDD and a 256GB HP Z Turbo Drive SSD. These specs give users immense power that complex computing tasks that laptops may baulk at. The HP Z2 Mini G4 is yet to be launched in India though its price tag in the US ranges between $900 to $1900. This mini PC snugly fits a backpack with its own portable screen and a keyboard.
INTEL NUC Kit: Another compact machine for heavy workload though it weighs an additional one kg over the HP Z2 Mini. It is still the smallest VR-optimized kit with gaming workstations and costs in the range of Rs.90,000 and above. The NUC kit is powered by an 8th Gen Intel Core i7-8809G with Radeon RX Vega M GH graphics and with 4GB of dedicated memory that can be expandable to 32 GB. Intel NUC kit even supports up to six 4K or 5K monitors with a variety of HDMI, Thunderbolt, USB and DisplayPort inputs.
INTEL NUC 8 MAINSTREAM-G KIT: This one costs just Rs. 60,000/ and weighs just 1.3 kg. It is powered by 8th Generation Intel Core i7 Processor delivers great results for immersive entertainment. It boasts of an AMD Radeon* 540x discrete graphics and 2 GB Graphics memory for visual immersion in games and streaming media. It carries 8GB RAM that is expandable up to 32 GB and 256GB of expandable storage. The INTEL NUC 8 MAINSTREAM-G Kit is ideal for light gaming and day to day office needs. It might not be the heavy-duty device, but it offers a great option in a powerful mobile workstation.
These three mini PCs showcase what the future could hold out for computing at home and at the workplace where users can easily shift between locations without losing touch of computing power and the quality graphics and gaming capabilities.
However, there is every likelihood that the laptop stories may continue for a few more years as mini workstations are still a work-in-progress breed. The next challenge is to compress the mini-PC into the shell of a laptop with the other paraphernalia like keyboard, touchpad and monitor taking up an equal amount of space. While this may sound like science fiction now, but the fact is that two decades ago, laptops too had appeared to be mere figments of our imagination.
And till such time as the mini PCs get smaller, the real gamer and the geek who wants more from their computing device would be best served by any one of the above powerhouses that can work with portable monitors and bring back computing power to computers.