Deep Fakes Threaten Social Media's Very Existence | TechTree.com
Deep Fakes Threaten Social Media's Very Existence
Twitter came out with a policy to fight manipulated media and so did Facebook. But are the companies doing enough to fight a malaise that threatens their very existence?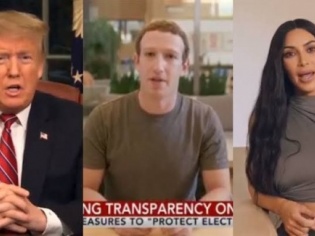 At a time when everyone that is anyone in the corporate world is waxing eloquent about how AI can change the way technology enhances our lives, there are groups of individuals out there somewhere battling a real threat that artificial intelligence is rattling the legitimacy of information sharing through cyber space.
Deep Fakes (or deepfakes as it is spelt) which presents realistic AI-generated videos of real people doing and saying fictional stuff has become the scourge of political and social activism on the social media in particular, thanks to unscrupulous elements who leave no stone unturned to embarrass or harass leaders of rival dispensations to gain some immediate digital advantage.
The latest in this nonsense happened just a couple of days ago when British political rivals Boris Johnsonof the Conservatives and Jeremy Corbyn from Labour appeared on deep fakes ostensibly endorsing each other for the general elections in the United Kingdom. These videos and several others in the recent past made The Economist question whether they could weaken democracy itself.
Though such an outcome could be one for the distant future, there is hardly any doubt that continuation of such AI-powered videos will undermine the existence of social media as an information sharing platform, given that currently there is no means to check the veracity of such videos and no tools available to work with.
More recently, the entire Indian media went to town with a video of former Pak President Gen. Pervez Musharraf where he was heard (and seen) calling Osama Bin Laden as a hero and admitting that his government was at the forefront of training and arming the Taliban.
A close look at the video suggests that this too could be a deep fake. The video was shared through the Twitter account of Farhatullah Babar, who has more than 59,000 followers and in his bio describes himself as a former senator of Pakistan. In the absence of technology to identify them as deep fakes, the media falls prey to the publicity. Of course, anything about Pakistan is trusted in India!
In fact, Twitter had just recently introduced a policy to fight deep fakes and other manipulated media involving photos, videos and audio. The draft policy published on Twitter's Blog, has been opened up for public inputs. The policy says Twitter would put such tweets on notice, warn people before they share them or just add a link to such posts so that people can read more about why the information could be manipulated.
However, what isn't clear is how Twitter would detect the deep fakes published on the platform, given that detection techniques aren't perfect. This is where Facebook, under fire for refusing to take down what was obviously a deep fake of House Speaker Nancy Pelosi, brought together a bunch of tech giants and academia in a partnership to counter those using AI with mala fide intentions.
"The goal of the challenge is to produce technology that everyone can use to better detect when AI has been used to alter a video in order to mislead the viewer," Facebook says in a blog post where it reiterates the point that though deep fake has "significant implications for determining the legitimacy of information presented online" industry doesn't have any means of detecting them.
Which is why Facebook decided to play the role of a catalyst in bringing more research into this area and launched the partnership on AI that involves Microsoft and academics from a several universities such as Cornell Tech, MIT, UC Berkeley, University of Oxford etc. to build the Deep Fake Detection Challenge (DFDC).
Of course, there is always the question whether those developing deep fakes wouldn't be ahead of the ones that are identifying and nullifying them. Because, that's pretty much how challenges such as spam and cybercrimes have been haunting the internet for many decades.
While the latter two challenge data security, the problem with deep fakes get aggravated because they have the power to corrupt society at large by posing a significant and real danger to public knowledge and is already contributing to the erosion of faith in digital content.
TAGS: Social Media, Facebook, Twitter, Microsoft, DeepFake