Buy the Best Laptops to Excel in your Workplace | TechTree.com
Buy the Best Laptops to Excel in your Workplace
Whether you're a programmer, graphic designer, market analyst, banker, investor, content writer, web developer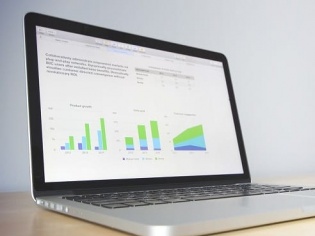 Today, in most industries, the role of a laptop for working professionals is simply undeniable. Whether you're a programmer, graphic designer, market analyst, banker, investor, content writer, web developer, consultant or business owner, having the right laptop can contribute a great deal to your efficiency.
However, while the exact specifications you require may be specific to the nature of your job, it's best that you go in for a system that's manufactured by a reputed brand so as to increase efficiency in your workspace.
In most cases, a Lenovo laptop, an HP laptop or a system by a brand like Apple will make for a good buy and so, all you need to verify when buying from a highly-rated manufacturer is that you get optimal value for money.
Even though buying a laptop with top specifications can cost a significant amount of money, you do not need to burn a hole in your pocket as you can purchase one via a No Cost EMI financing deal when you shop on the Bajaj Finserv EMI Network.
With No Cost EMI financing, you pay back the device's purchase price, nothing more. To shop, simply use your EMI Network Card at the time of purchase, or avail in-store financing at a partner store in case you do not yet have the Card. With over 60,000 partner sellers both online and offline, you can buy chosen laptop with ease.
Now that you know how to buy a laptop conveniently, take a look at some top devices and pick the one that you think will be ideal for your professional needs.
Lenovo IdeaPad 530S
Screen size: 15.6 inches
Weight:1.69kg
Processor: Core i5, 3.40GHz
RAM: 8GB
Hard drive: 512GB
Battery: 45 Watt-hours
Graphics: Nvidia MX150 2GB DDR5
This Lenovo laptop is capable of handling office tasks and some level of coding with ease. At the heart of the laptop is a speedy i5 processor that clocks at an awesome 3.40GHz. The processor is backe, by a large, 8GB RAM unit which facilitates multitasking.
The system also promises impressive visuals, courtesy an NVIDIA MX 150 graphics unit and flexibility via a screen that rotates up to 180 degrees. The anti-glare screen enhances the display and reduces the strain on your eyes as well.
The laptop houses a battery that can run for around 8 hours without needing charging, something that is ideal for a working professional.
Dell XPS 15
Screen size: 15.6 inches
Weight: 1.8 Kg
Processor: Core i7, 3.80GHz
RAM: 16GB
Hard drive: 512GB
Battery: 56 Watt-hours
Graphics: NVIDIA GeForce GTX 1050
If you're into web development and a bit of graphic design and need more computing power, consider the Dell XPS 15. The laptop's InfinityEdge display lets you get the most out of the build and this laptop is spoken of as being the smallest 15.6 variants in the market that you can get.
In terms of computing, the Dell XPS 15 boasts of a powerful i7 processor that clocks at 3.80GHz and a massive, 16GB RAM module that ensures that you can multitask and run heavy applications without worrying about the system lagging. The laptop is also great for group work as the IPS panel facilitates wide, 170-degree viewing.
Apple MacBook Pro
Screen size: 13 inches
Weight: 1.37 Kg
Processor: Core i5, 1.4GHz (Turbo boost, 3.9GHz)
RAM: 8GB
Hard drive: 512GB
Battery: 58.2 Watt-hours
Graphics: Intel Iris Plus Graphics 645
The Apple MacBook Pro is the preferred laptop for video editors, movie makers and animators alike. A crystal-clear Retina display along with Apple's own range of movie editing and animation applications make the MacBook Pro a well-loved system in the industry.
While you do get a 15-inch variant, which works better if you work at a desk most of the time, the 13-inch variant is preferable if you are someone who is on the go constantly.
Further, the laptop weighs just 1.37Kg and so, is ideal for carrying with you to meetings or during travel. The 13.3-inch MacBook Pro houses an Intel i5 processor that clocks at 1.4GHz and 3.9GHz on Turbo Boost.
This is backed by a 8GB RAM module and 512GB of internal storage thus allowing you to host and run heavy applications without the slightest difficulty. The MacBook also sports a fully-sized backlit keyboard, which is ideal if you work at night.
HP Spectre x360
Screen size: 13.3 inches
Weight: 1.26Kg
Processor: i5, 1.6GHz
RAM: 8GB
Hard Drive: 360GB
Battery: 60 Watt Hours
Graphics: Intel UHD Graphics 620
If you're constantly on the go and have a job profile that demands flexibility, then consider the HP x360. Weighing just 1.26Kg and with a screen size of only 13.3 inches, this HP laptop is as good as it gets in terms of system configurations.
It boasts of a screen that can rotate up to 360 degrees. So, while you can use it as a regular laptop, you can push the screen back and use the laptop as a tablet on which you can write on.
Similarly, you could make the laptop go into tent formation in case you want to view some material and free up some desk space at the same time. The laptop does not compromise on performance either. You get an Intel i5 processor an 8GB RAM module and a large battery.
Dell Latitude 14 Rugged Extreme
Screen size: 14 inches
Weight: 3.69Kg
Processor: i5, 2.4GHz (Turbo mode 2.9GHz)
RAM: 8GB
Hard Drive: 128GB
Battery: up to 97 Watt Hours
Graphics: Intel UHD Graphics 520
The Dell Latitude 14 Rugged Extreme is a robust and sturdy laptop designed to survive the harshest of weather conditions and most extreme situations. This laptop is ideal for military personnel, journalists and explorers.
The device is made using shock-absorbing polymer materials and designed keeping military standards in mind. It is built to endure punishing temperatures, sand, dust liquid and even withstands significant impact without giving way. This Dell laptop has a backlit keyboard, a resistive touch screen and a massive 97 Watt Hour battery.
Now that you are aware of the best laptops for professionals available in the Indian market, invest in one that allows you to fulfil your work with ease. As you do so, check your pre-approved offer from Bajaj Finserv as this is the best way to get access to EMI financing of up to Rs.4 lakh speedily.
TAGS: Laptop, Best Laptops, Sponsored