Apple Reports a Bug that Threatens Your Keyboard | TechTree.com
Apple Reports a Bug that Threatens Your Keyboard
Apple has disclosed that there was a possibility that anything one typed on a third-party keyboard could be in public domain.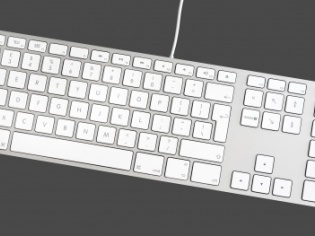 While seeking strict guidelines for social media use in India, a senior judge of the Supreme Court recently spoke of giving up his smartphone over growing concerns of personal security and privacy. Justice Deepak Gupta's words appear prophetic as barely 24 hours later, Apple has disclosed that there was a possibility that anything one typed on a third-party keyboard could be in public domain.
Yes! You read that right. In an advisory posted late on Tuesday, the company warned users of a bug that could impact third-party keyboards which would have the ability to request "full access" permissions.
In other words, if you happen to be using a third-party keyboard with any of your Apple products – an iPhone, an iPad or even a MacBook, there is every possibility that the bug has handed out full access to the keyboard to read each and every word you type.
And do what with it? Well! That's the part which isn't clear as of now. But, the no-brainer that comes to mind immediately is that such a situation puts the user's bank details, passwords and everything concerning her online security at considerable risk. Of course, Apple has assuaged fears of a pandemic saying that it's next software release will fix the bug.
"Third-party keyboard extensions in iOS can be designed to run entirely standalone, without access to external services, or they can request "full access" to provide additional features through network access. Apple has discovered a bug in iOS 13 and iPadOS that can result in keyboard extensions being granted full access even if you haven't approved this access," says the blog post.
The post clarifies that this issue does not impact Apple's in-built keyboards as well as those third-party keyboards that do not make use of full access. It motivates users to take a few moments and review any third-party keyboards they could have installed by simply going to Settings > General > Keyboard > Keyboards and check.
If they find some, it may be a good idea to remove them for the time being. At least till such time that Apple can fix the bug and give us the green signal.
Looks like the smartphone isn't all that smart after all. Or maybe, it is just too smart for simple folk like us who do not think twice before using it as a solution for our memory challenges and open up our lives to a device in such a manner that the unscrupulous ones can easily take advantage by selling data to the highest bidder – that too in the name of enhancing user experience.
Maybe, one needs to take Justice Gupta's words seriously. "It is dangerous the way the technology is going. After the last hearing I researched and found I could buy an Ak-47, on the dark web, in 30 minutes," Justice Gupta said, adding, "I was telling someone I want to give up my smartphone".
"There is enough scientific brain in this country. If there is technology to encrypt then there must be technology to decrypt also," the learned judge said while warning the Government of India once again that a balance needed to be struck.
Maybe, as cell phone users, we too need to strike a balance and remember that this gadget's primary role is to help voice communication!