Can Companies Be Smart About Their Smartphones? | TechTree.com
Can Companies Be Smart About Their Smartphones?
The surfeit of phone launches isn't exactly a smart thing to do for cellphone manufacturers given that there's a limit to features that they can provide in the gadget.
Now that we have firmly established that cellphones are a fashion accessory, I think it is time that the brands come together to try and reduce the agony for the consumers. I mean, look at the fashion industry. They don't go around launching their lines every fifteen days. There is a method to the madness. There is a fall collection, a winter collection, and a spring/summer line. The fashionista has a far more organized life- (s)he knows as to when the launches will happen and when there will be a lull.
Not so the cellphone industry. They are releasing phones faster than it takes for a rabbit to breed. Every day, there is a new launch, with new features, multiple cameras, multiple interfaces, and obviously multiple actors who are plugging them.
A friend did an enormous amount of research for close to 15 days and came out with what he claimed were the best of breed features. Further research led him to five existing models from 2 brands and he was all set to make a purchase. Imagine his shock when, in the next three days, 3 more brands launched some six different models with the same features and a few of them even more advanced. Now my friend was in a fix. His entire research had gone for a six and he had to start all over again!
And the features. Life was simpler when there was no camera in our phones. I do confess to smiling when I got my first cellphone with a camera. However, today there is absolute mayhem. There are some brands that come with four cameras. Now I am sure there are some smart folks out there who know what to do with four cameras. As for me, I struggle with one, and I frankly don't know what I will do with three extra cams.
Then, there is the screen size, which has gone from 2.5 inches to 6 inches for a cellphone, and beyond that for a tablet. I gave one tablet to my wife to demonstrate my love for her and after one week, she politely handed it back to me with a dangerous glint in her eyes saying, "If I want to build biceps, I will go to the gym.'' End of my love story.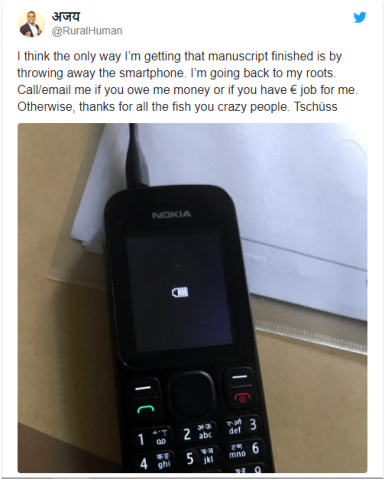 At least that way, Apple is quite predictable: new products every September and new iPhones every other year. So, we know that our bitching about Apple prices doesn't need to start before September, since we know that they will be outrageously priced in India and you will have many of the Apple aficionados with a benign smirk "It is for the brand, boss, not per se for the product." The iOS vs Android debate begins around September and is closed by the end of the month. Now that's what I call a stress-free life.
I think it is time that the industry realizes that it benefits absolutely nobody to have random launches every Thursday and causing so much agony in a consumers' life. Let them fix three times a year when all the companies gather and launch their products, and allow consumers the rest of the year to make decisions.
The rate at which the consumer is asked to decide the phone (s)he has to buy it is a state of Present Continuous Tense, all three words that can be used.
TAGS: Smartphones