Kodak Launches 43-Inch And 49-Inch TVs In India | TechTree.com
Kodak Launches 43-Inch And 49-Inch TVs In India
The affordable smart TVs come with a starting price of Rs 20,999.
Kodak has introduced two new products to its TV line-up. Both these televisions are smart and feature a Full HD screen. Compared to the previous generation, Kodak has updated the design with thin-bezels.
First up, the smaller among the two, 43-inch TV packs in 1920 x 1080 pixels. Kodak claims that the panel has a viewing angle of 178-degree. LED-backlit TV has a peak brightness of 600 nits. Depending on the content, it can offer the refresh rate of up to 60 Hz. The onboard speaker has two drivers with 20 W output. For the smart bits, you get a Cortex A53 processor with 1 GB RAM. The TV has 8 GB of internal storage. It comes with Wi-Fi support, Ethernet port, 2 USB ports, and 3 HDMI ports.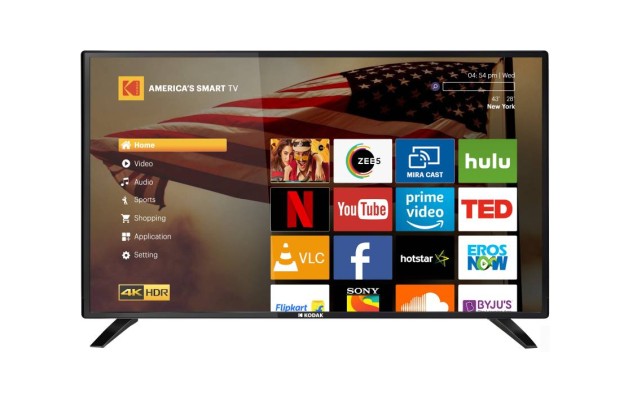 The 49-inch model too has the resolution of 1920 x 1080 pixels and 178-degree viewing angle. However, the company has rated it with 300 nits of brightness, which is half compared to that of the 43-inch model. This T is powered by a dual-core Cortex A53 processor running at clocked at 1.3 GHz. It has 1 GB of RAM and 8GB internal storage. Other features include Wi-Fi, Ethernet port, 3 USB connectors, 1 VGA, and 3 HDMI ports. It has the same twin 20 W speakers as the 43-inch model.
Kodak's 43-inch and 49-inch TV's run Android 5.1 out-of-the-box with KodakSmart Wall on top. The 43-inch model is priced at Rs 20,999. The large 49-inch TV sets you back for Rs 24,999.
TAGS: Kodak