Syska's Beat Pro Earphones Offer Immersive Music Experience
The earphone comes in two colors - Black and White at a competitive price of Rs. 899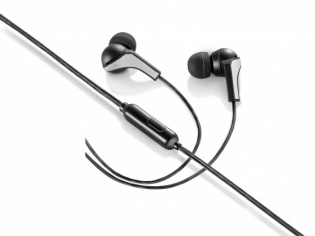 Syska Accessories, the leading name in the mobile accessories segment in India, has launched the Syska HE1100 Beat Pro earphones that come with Hi-Fi clear sound which give users a captivating music experience. The Syska Beat Pro earphones are not only a good choice when listening to music but also while making / receiving calls as they cut out any unwanted noise in the background giving listeners an immersive experience. The design of the earphones are fascinating because of its metal housing which result in a rich experience for bass music lovers.

The Syska HE1100 Beat Pro earphones come with a high definition built-in microphone, which provide absolute clarity to listeners. The earphones have a multi-function button which can be used to play, pause, control volume, track speed and answer calls, thereby offering all functions through the click of a button. The Syska Beat Pro earphones also come with a 1.2 metre anti-winding round cable which provide a tangle free experience. These earphones are compatible with all devices that include mobiles, laptops, gaming & music devices.
Commenting on the launch of the Syska Beat Pro earphones, Gurumukh Uttamchandani, Executive Director, Syska Group said, "Owing to the ever increasing demand for audio accessories, we have added yet another innovative product to our mobile accessories product range. Today, millennials and gen Z are always on the lookout for earphones that are cool, trendy and available at competitive prices."
"As the mobile accessories segment is growing at a rapid pace, we have been introducing innovative products on a consistent basis and aim to be a leader in this category. The launch of our latest Beat Pro earphones compliment the style of today's generation and offer them both convenience and affordability at the same time," added Uttamchandani.
Following are the features of the Syska HE1100 Beat Pro Earphones:
- Built-in high definition microphone - The built-in high definition microphone can pass sound to the listener in a much clearer way and ensures a noise free listening experience.
- Hi-Fi Music and Clear Sound – The Syska HE1100 Beat Pro earphones come with Hi-Fi stereo sound. Providing users with an immersive listening experience.
- Multifunction button - The earphones have a multifunction button which can handle calls, play or pause music, control volume and track speed. For music control - click once, for play / pause - click twice, for next track and click thrice for previous track.
- Noise Cancellation - The drivers of these earphones are tuned in such a way that they eliminate every unwanted sound except the music one is listening to.
- 1.2 m Anti-winding TPE Round Cable - Syska Beat Pro Earphones come with a 1.2 m long cable. The roundness of this cable provides a tangle free experience every time.
- Comfortable, with different ear buds sizes - Syska has made sure that these earphones are comfortable and match with all types of ear sizes. They are available in three variants – small, medium & large. All ear buds are high on comfort and can be worn for long periods of time.
- Compatible- Syska Beat Pro Earphones are compatible with all types of smartphones, tablets, PCs or mac and music players.
- Warranty – The Syska Beat Pro Earphones are covered up to 1 year.
The Syska HE1100 Beat Pro earphones are comfortable and provides different sizes that match with all types of ear sizes. The earphone comes in two colors - Black and White at a competitive price of Rs. 899. The earphones are available on leading e-commerce platforms and offline retail stores.
TAGS: Syska, Syska Beat Pro, Earphones