itel Launches Full Screen HD and AI Dual Camera Smartphone
itel A46 is priced Rs 4999 and runs on the latest Android Pie 9 OS with a powerful 2GB RAM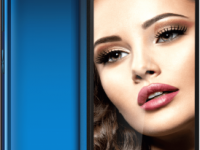 Building on an impressive portfolio of smartphones under the 5K segment, itel, one of the leading mobile brands from TRANSSION Holdings, launched a fully loadedall-rounder smartphone, itel A46 at INR 4,999 in India.
The launch of A46 strongly reinstates brand itel's vision of democratizing technology, making superior smartphone experience accessible and affordable for its discerning consumers. The smartphone is a complete package for consumers providing cutting edge technological features like enhanced AI Dual Camera, Dual security features – Multifunction fingerprint sensor and Face Unlock, 13.84cm (5.45) HD+ IPS full screen, Dual 4G VoLTE, latest Android Pie 9 OS and 2GB RAM with Octa Core processor for better performance & multi-tasking - and all at a budget friendly price of INR 4999.
"We are confident that it will be a game changer for the first-time smartphone customers who look for full value in every purchase. Our DNA in brand itel is to engage, excite and surprise the under 5K smartphone customers with best fit combination of product and price," Arijeet Talapatra, CEO, TRANSSION India said.
Goldee Patnaik, Head of Marketing, itel Business Unit said, "At itel we have been doing intense research across semi-urban and rural markets to understand consumer consumption habits and relevance of smartphone in their day to day life. What we realized is the benefit that smartphone provides is no less than a magic in their life because of the entertainment and relevance it has in making their life better."
The company's brand essence 'har haath mein jaadu', aims to enrich consumers experience and based on its philosophy itel A46 comes with rich features that falls under the sub 5k category.
A46 also comes with Reliance Jio free data offer where customer gets 50GB additional free 4G data along with Rs. 1,200 instant cashback on recharges of Rs. 198 and Rs. 299 over a period of 24 months.
TAGS: Dual Camera Smartphone, AI