How to Install and Use TweakBox App on iPhone | TechTree.com
How to Install and Use TweakBox App on iPhone
TweakBox is the number one third-party app installer, packed to bursting with great apps, games, and a few Cydia tweaks too.
TweakBox offers thousands of different apps and games, all placed in useful and easy-to-use categories.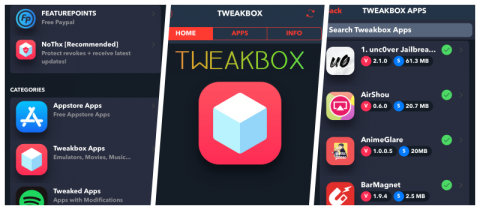 How to Download TweakBox App:
Downloading TweakBox is really very easy to do:
Open the TweakBox download page
Choose a Config Profile link and tap to install it
Tap Allow on the new page
Tap Install to allow the profile to download
Tap on Install Profile in your Settings app (it will open automatically) and then type your passcode in
Safari browser opens, tap Install TweakBox>Install
Wait; Settings will open again
Tap, on each successive page, Install>Next>Done
Wait for the installation to finish and the app icon to appear on your home screen
TweakBox is now ready to use
How to Use TweakBox:
Using TweakBox is even easier than downloading it:
Tap the app icon to open TweakBox
Tap on Apps from the menu bar
Choose your category
Browse or use the search facility to find an app or game
Tap on the result and then tap Install
Follow any in-app directions and wait; when the icon is on your screen, your app or game is ready
App Features:
App Store Apps – loads of iOS apps and games, including premium and paid, all free
Exclusive Apps – tweaks and apps not found in official sources, including screen recorders, movie and music apps, games emulators, and loads more
Tweaked Apps – popular stock apps with extra features
Modified games – lots of top-selling games, all free and all with extras and in-app features unlocked
Is TweakBox Safe?
Yes, it is. The developers of Tweak Box have done a lot of work to ensure that their app installer is 100% safe and reliable, not to mention stable. Each stage of the development was tested by the developers and then by beta testers. Following our own tests, we can confirm that it is 100% free of malware, viruses, or anything else that could harm your device or data.
It also will not interfere with any service or app on your device, and it doesn't use up all your memory or processor, making it very efficient. On top of that, it is monitored and updated regularly.
Second, TweakBox has been developed in such a way that it doesn't need root access to work in the way that Cydia did. While this keeps your device more secure, it does have one downside – it doesn't offer the same functionality we got from Cydia. However, if security is more important to you then Tweak Box offers everything you need.
Last, the developers are not going to destroy their good reputation by providing you with something insecure and unsafe. Your safety is their priority and regular updates keep the bugs away.
TweakBox Can Jailbreak Your iPhone :
Yes, it can. When you download TweakBox, you are gaining easy access to a jailbreak called Unc0ver. This is a much safer way of jailbreaking your device as well as providing you with all the other apps and games for free.
Download Unc0ver Jailbreak:
Download Tweak Box using the steps above
Open Tweak Box and type Unc0ver into the search box
Tap on the result and tap Install
Follow the instructions on the screen to install Unc0ver jailbreak
Use it the way you do any traditional jailbreak
Unc0ver Jailbreak Features:
Stable, reliable, safe
The patches are faster
It doesn't drain your battery
It doesn't freeze up
Option to stop certificate revokes built-in
Disable auto updates
User-friendly
No malware or viruses
Supports all the latest Apple hardware
Remount RootFS
Lots of other cool features
Tweak Box offers far more than many other unofficial app installers; not requiring a jailbreak to work means everyone can enjoy what's on offer in complete safety. Plus, its totally free, now and forever, and is constantly being updated with new content and features.
Download TweakBox and see for yourself what it's all about. For more tips like this, follow the Techtree team on Facebook.
TAGS: TweakBox