5 Intel-Powered Laptops To Add to Your Holiday Shopping List
These five Intel-powered laptops can be your ideal companion this holiday season.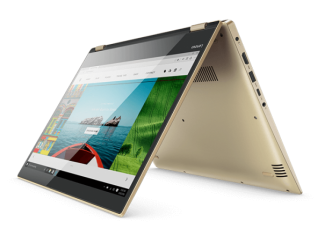 With 2018 coming to an end, another year is coming to a close. As you wind down and huddle with family, it's time to give thanks and renew connections. Here's a round-up of five Intel-powered laptops that will make worthy additions to your year-end shopping lists and help you stay connected in the New Year. As per our reviews and also ratings from various users, we found these are the most popular and best performing laptops this year that come with several high-end features as well.
1. HP Spectre x360: "Elegant to Look At", HP Spectre x360 is one of the most stylish and graceful looking 2-in-1s. Powered by 8th Generation Intel Core i5 processor, the laptop is a perfect blend of stunning design and powerful specs and will stun you with its blazing performance. A durable 360-degree geared hinge gets you in the perfect position to work, write, watch and play. HP Spectre x360 Rs. 1,20,990 (As on Amazon India)
2. ASUS Zenbook UX331: This laptop is powered by 8th Generation Intel Core i5 processor is the "Always on-the-go Champion". It weighs only 0.98 kg, making it mobile, portable and packed with power. This super light and super stylish laptop is ideal for those who are always on the move. ASUS Zenbook UX331 – Starting Rs. 65,990 (As on Flipkart)
3. Lenovo Yoga 520: If you enjoy movies and songs, the Lenovo Yoga 520, powered by Intel Core i5-7200U processor is the perfect fit. The device is a stylish 2-in-1 entertainment powerhouse with amazing battery-life, gorgeous 1080p IPS touch-screen and Harman speakers. It boosts the experience even more, with cutting-edge options like the Lenovo Active Pen and a fingerprint reader for iron-clad security. Lenovo Yoga 520 – Starting Rs. 65,375 (As on Amazon India)
4. The Acer Swift 5: Powered by 8th Generation Intel Core i7 processor, this laptop could be your ideal entertainment buddy. With Dolby Audio Premium Technology and Acer Color Intelligence Technology, this laptop makes your media look and sound better than ever. Acer Swift 5 – Starting Rs. 88,200 (As on Amazon India)
5. Dell Inspiron 15 5570: The laptop is suitable for someone who likes to multi-task and can be called "The Versatile One". Equipped with 8th Generation Intel Core i5 processor and up to 2TB HDD, the Inspiron 15 lets you multitask like a pro. The slender and stylish design and backlit keyboard will surely grab eyeballs in public. Dell Inspiron 15 5570 – Starting Rs. 61,490 (As on Amazon India)
TAGS: Laptops