boAt Launches Ultraportable Bluetooth Speaker - Stone 230
A cool accessory to any backpacker's journey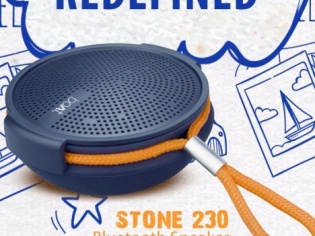 boAt, a lifestyle audio brand, has launched Stone 230, an ultra-portable speaker with a high level of durability and a crystal clear sound. The speaker is round shaped and comes in 2 color variants - Charcoal Black and Midnight blue and is available at Rs. 1299.
Saurabh Goswami, Marketing Head said "Our products aren't just magnets and bolts with some specs on a sheet of paper. Uncompromised enthusiasm is what drives us, and it reflects in the epicness in the being of our products."
A meticulous design indeed, the Stone 230 is astoundingly compact, with a crisp feel and sound that can make its presence seem larger than its true size. You can stay connected to the music that you love with no frustrating wires getting in the way of music playback via its Bluetooth V4.2 technology. Sleek and durable, Stone 230 can produce a truly immersive audio experience from courtesy a 3W Power Output supplied by a 1.5" Driver.
In addition, the speaker is apt for any location. It is perhaps something that travellers will appreciate at times during a long journey. This also means that the utility of the Stone 230 carries a vast range of potential and opportunity. Due to its wireless capabilities, just connect to your music player and place the speaker wherever you feel it is suited to sit.
Not only that but the inbuilt the long-lasting lithium battery can play through the day, making the Stone 230 extremely reliable. It provides access to your favorite music at anytime and anyplace for up to 10 hours. Keeping with travel, the Stone 230 is protected with IPX4 Rated water resistance that prevents poor weather conditions from raining on your parade. It even comes with an SD Card to keep the party going or supply you with music in times of poor reception or connection.
The product carry's a 1 year warranty and is available at Amazon.in.
TAGS: boAt, Bluetooth Speaker