Acer's Launches "Predator Thronos" In India
PC maker Acer unveiled 'Predator Thronos, the ultimate gaming cave' for the first time in India, which is one of the most awaited products to hit the gaming market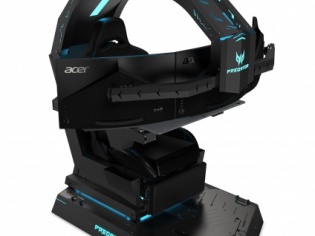 The launch was made at an extravagant event, the "Night of the Predator" touted as one of Acer's biggest gaming and youth carnivals that was held in Mumbai on November 24.
The all new Predator Thronos reimagines the gaming cave for the new breed of gamers. It has a steel structure that's 1.5 meters tall, the chair is adjustable and includes an ergonomic seat design, foot rest, and a cabin that reclines up to 140 degrees.
The Predator Thronos is much more than just a chair, said the company in a press release, explaining that the motorized throne packs leg rests, a mount for three computer monitors, and blue mood lighting galore. It puts the gamer in the game through deep impact vibration, where the chair vibrates upon in-game impact. The overhead brace supports three 27-inch gaming monitors and a space for a Predator gaming PC. Integrated with a Predator PC and triple Predator monitors plus gadgets, the Thronos becomes much more than a gaming chair—it's a Gamer's cave.
Chandrahas Panigrahi, CMO and Consumer Business Head, Acer India said, "We are extremely thrilled to launch our Predator Thronos, the first ever gaming chair, in India. This innovation is one of a kind from Acer and till date, we haven't seen any other similar products in the market. Integrated with a Predator PC and triple Predator monitors plus gadgets, the Thronos becomes more than a gaming chair—it's a gamer's cave. And we are sure of receiving a positive response towards it from the gamers community."
The cockpit has numerous parts that are motorized and can be adjusted both horizontally and vertically. The seat also has built-in "rumble" motors that are synced up with in-game effects, making them even more immersive. The Chair comes in menacing dual-tone black with white or blue accents. Also, it is available for pre-orders and pricing on requests based on the configurations.
"Night of the Predator is a full-fledged festival in itself, with thousands of audiences and gamers gathering under one roof for the love of gaming and music", Panigrahi mentioned adding that, "India whose online gaming industry is expected to grow at USD 1 billion by 2021, is gradually becoming progressive towards online gaming and has started considering eSports as a career option realizing the potential of the same."
Acer currently has a range of extensive gaming devices line ranging from laptop, desktop, monitor, gaming chairs and gaming headphones, mouse, keyboard, mouse pad and other accessories. The company's Predator gaming line has earned countless industry awards and accolades for design, innovation and performance and has become the machine of choice for professional gamers. Predator Gaming League reinforces the commitment of Predator brand in supporting the gaming industry in the in India.
The event was supported by SRM Institute of Science and Technology, Kattankulathur Campus, Chennai and Flipkart the Night of the Predator is set to be a landmark event in the calendar of e-sports and music fans across India.
TAGS: Acer