5 Things You Should Consider Before Buying A Computer Desk | TechTree.com
5 Things You Should Consider Before Buying A Computer Desk
Size, Shape, Material, Ergonomics, and Pre-Assembled or Ready-to-Assemble — do not forget to consider these points!
Computers have become a very integral part of our lives, and adding more to that integrity are the computer desks, which make up a very essential part of our workstations. They come in various designs, shapes, and sizes, and are manufactured from several materials. We can choose from simple desk to place a laptop or an L-shaped desk which can accommodate not just our computer work, but everything else.
Here are five things that you should consider before purchasing a computer desk:
1. Size - Computer desks come in different sizes, and it is always best to keep in mind your need, based on the placement of your workstation. We suggest you to measure the size of the monitor / laptop and also, determine how much space you would need, and what is the purpose of the table.
2. Shape - Desks are manufactured in different shapes to satisfy different needs of customers. While rectangular desks are pretty common in the market, you can also choose from corner desks and workstation desks. Hutch desks are also gaining popularity in the recent days. Again, it is worth to check out what shape you are looking at, based on the size and shape of the room. For instance, if you are planning to buy a computer desk to be placed in a corner of your room, then we would suggest you to purchase an L shaped corner desk.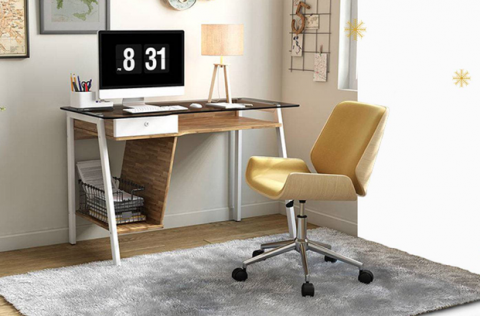 3. Material - This is one of the very important criteria to keep a watch-on before purchasing a desk because the materials used in the furniture directly affects its price, weight, and also its appearance. While metal desks and particle board desks are pretty cheap in the market now, those made out of premium wood are also opted by many to please the visual appearance and the purpose. For instance, lightweight desks would do the job for students while a sleek wooden desk with glass top would be a perfect choice for a professional.

4. Pre-Assembled or Ready-to-Assemble - Desks are now available as both pre-assembled package and ready-to-assemble units. The fact that many families are now renting a flat in a metropolitan city like Bangalore or Delhi is, in-fact, leading to an increase in the number of online purchases. And, to fulfil a very easy shipping, companies and customers opt for ready-to-assemble packages. However, a pre-assembled desk is more likely to have a better visual appeal and also expensive. 

5. Ergonomics - A computer desk can serve your purpose in the best way when you consider its ergonomics before choosing it. You will have to keep an eye on its pull-out keyboard tray, elevated shelves, and height adjustments. A round edged desk, for instance, can save you from sudden bruises.
Considering these five points before purchasing a computer desk will definitely increase the chances of getting the best furniture you, your computer, and your space desires. Having said this, we would also suggest you to purchase computer desks from a reputed vendor like Urban Ladder who can offer you a number of options before actually zeroing on one.
TAGS: computers, Office Furniture