Acer Unveils World's First Curved Screen Gaming Notebook in India
The Predator 21 X is the dream machine for ultimate gaming enthusiasts loaded with high-end features and technology.
Acer has recently launched its mot awaited and critically acclaimed gaming machine in the world dubbed as the Predator 21 X, which is claimed as the world's first curved screen notebook. This monster of a machine will be available on order through Acer Exclusive stores and authorized e-commerce stores, for a price tag of Rs 6,99,999.
Expressing the excitement on the launch, Mr. Chandrahas Panigrahi, CMO and Consumer Business Head said, "Predator brand needs no introduction and now I am thrilled to announce that we are able bring the ultimate gaming laptop to India – The Predator 21 X. The Predator 21 X is the world's first notebook with a curved screen design that offers eye-tracking technology for more immersive user experience."
He also added, "The incredibly powerful Predator 21 X is a true beast of machine packing in some of the most advanced technology ever seen in a laptop while offering desktop-level performance for the most demanding games."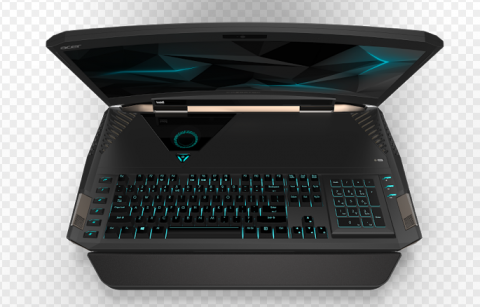 Technically speaking, the notebook features a curved 21-inch IPS display. It is boasted to deliver a truly immersive gaming experience, especially when combined with the Predator's eye-tracking technology from Tobii. Taking PC gaming immersion to new depths, eye tracking lets gamers identify enemies, aim and take cover simply by gazing at objects on the screen in over 45 titles like Elite Dangerous, Deus Ex: Mankind Divided and WATCH_DOGS 2 and more. The curved screen also features NVIDIA G-SYNC technology, ensuring smooth and sharp gameplay.
The Predator 21 X (GX21-71) features dual NVIDIA GeForce GTX 1080 graphic cards in SLI and an overclockable 7th Generation Intel Core i7-7820HK processor for ultimate performance.
Supporting all this power is 64GB of DDR4-2400 memory, up to four 512GB solid state drives in RAID 0 configuration (including 2 NVMe PCIe SSDs, which are up to 5x faster than SATA SSDs) and a 7200 RPM hard drive of 1TB capacity.
TAGS: Acer