1More Launches THX Certified Headphone Triple Driver In-Ear Headphones In India | TechTree.com
1More Launches THX Certified Headphone Triple Driver In-Ear Headphones In India
The in-ear headphones come with two balanced armatures and a separate dynamic driver.
1More has recently announced the launch of World's First THX Certified Headphone, Triple Driver In-Ear Headphones in India, for a price of Rs 8,999.
The company has once again collaborated with internationally acclaimed Grammy Award Winning producer, mixer, and sound engineer Luca Bignardi to perfect the final tuning to deliver a precise representation of your favorite artist's intended sound.
Technically speaking, Triple driver transducer in-ear headphones have two balanced armatures and a separate dynamic driver that deliver an extremely powerful yet intimate listening experience.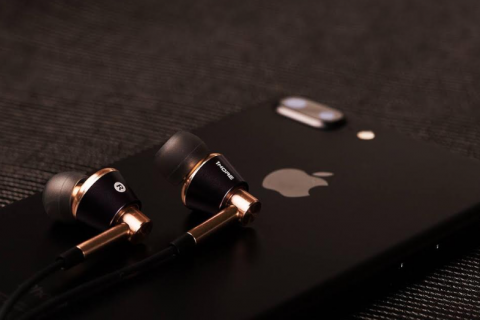 The patented armatures work together to deliver sizzling highs and can withstand extremely high input power without distortion. They have an extended frequency range up to 40,000 Hz to reproduce high-resolution audio. Frequencies in this range add "transients", a sonic quality normally only heard in live music. The armatures are uniquely inset with durable silicone covers for lasting performance and resilience. The patented triple layer driver with aerospace grade metal inside two outer layers of PET, a resilient polymer, greatly increases bass and midrange response time, definition, and fullness.
The high quality function matches form with a lightweight aluminum alloy body. The surfaces are precisely sand blasted and textured for aesthetic appeal and fingerprint resistance. The cable consists of interior enameled copper wrapped around Kevlar fiber to greatly increase durability and tensile strength. The surface of the cable is enhanced by TPE for softness and comfort with a final braided layer of nylon for lasting resilience and tangle resistance.
Product Specifications:
Type: In-Ear
Color: Titanium/Gold
Impedance: 32 Ω
Sensitivity: 99 dB
Frequency Range: 20-40,000 Hz
Rated Power: 5 mW
Weight: 18 g
Length: 1.25 m
Plug: 3.5mm
DAC: 24 Bit/ 48 kHz
In-line Remote Control: Included
Wire Material: Enameled Copper Wire
Executive Standard: GB/T 14471-2013
TAGS: 1More USA