ESY India Launches Smart Touch POS And Label Printers | TechTree.com
ESY India Launches Smart Touch POS And Label Printers
The new range of Smart Touch POS and Label Printers are claimed to be the country's first of such kind.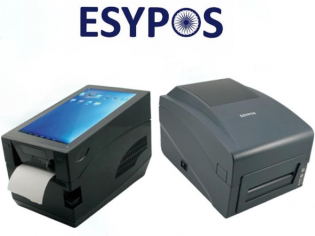 ESY India has recently announced the launch of a wide range of Smart Touch POS and Label Printers in India after almost two years since the earlier ESY POS range of products were launched in collaboration with Pinnacle Technology Corporation.
At the launch of the new product range, V.P. Sajeevan, CEO, ESY India said that the POS market in India is growing at a rapid pace, thanks to the introduction of GST. He added that in the last two years, ESY India could launch many new models for POS printing and barcode scanning.
"This unique product, the ESYPOS Smart POS ESP 5313, prints 3-inch receipts and labels in dual mode with multiple interfaces, including Wi-Fi, Bluetooth, Ethernet and USB. It has a built-in 9-inch touchscreen that makes billing or label editing related operations easier. Since the operating system is Android, printing on cloud and remote managing is enabled. The Quad Core CPU can drive seamless computing and printing. This is truly a first of its kind in the Indian market, " Sajeevan further added.
"Considering the huge potential in Barcode and Label Printing, we are also launching two new models for heavy duty label printing. Both these products come with 120 mm paper width (4.72"), a Dual Printing method with Thermal Transfer Technology and Direct Thermal Technology. In fact, all our products are BIS certified. We recently upgraded our quality certification to ISO 9000-2015. With superior quality, unique features of ESYPOS products and our robust sales and service network across the country, we are confident of attaining a leading market share before the end of 2018," said Sajeevan.
ESY India is also offering onsite warranty for one year for Label Printers including the print head. It is the only brand offering warranty for print heads up to 50 km. The company is also offering a full version of the "Label Shop" Label editing software worth Rs.16000, free of cost.
TAGS: Label Printer