VU Launches Three Smart TVs In India
The Pop Smart TV models are exclusively made in India right from hardware to software.
VU has recently announced the launch of new series of smart television sets in India comprising of three new models, out of which, one dubbed as 'Pop Smart TV' is a complete 'Made in India' product, right from hardware and software; completely researched and developed in India. Other two models are being called as Office Smart TV and Premium Smart TV.
Having said this, the three models of Smart TV sets will be available in a number of sizes ranging from 32 inch all the way up to 75 inches. Adding in-depth on this, the Pop Smart TV will be available in 32, 43, and 49 inches, while the Office Smart TV comes in 49, 55, 65, and 75 inches, and Premium Smart TV in 32, 39, 43, 49, and 55 inches.
Let us now have a look at these smart TV models one by one. To begin with, the Pop Smart TV is claimed to be first of its kind to support PC casting from both Windows and MacBook. It also comes with a couple of on-demand channels like Hungama, Eros Now, YuppTV, Ted, Daily Motion and more. It also allows viewers to share Picture, Video, Music on TV from Android or iOS Mobile. Adding further, the Once Touch Pop Remote control by Vu TV provides pop buttons of favourite apps like YouTube, Browser, App store and Media, making the entire experience completely hassle-free.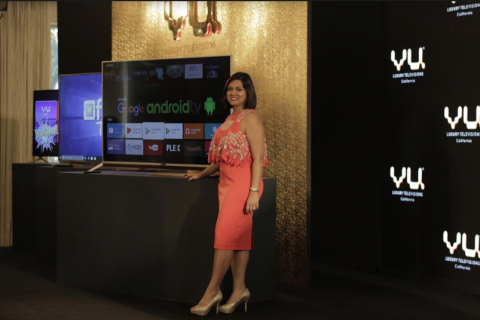 Moving further, the Office Smart TV features an in-built computer and Windows OS for PPT, Excel, Word, Outlook etc. With its wireless and wired network connectivity and 32GB storage, the Office Smart TV allows users to send emails directly to the TV while preparing for meetings or access cloud apps, CRM software, other network files directly from the Office TV. The plug and play solution offers complete employee privacy, not having to connect PC for display.
Lastly, the Premium Smart TVs are powered by a quad-core Internet Video Processor, built on the Premium OS, and supports YouTube and Netflix. User can press Netflix or YouTube button to turn on the App or push the videos from YouTube on smart phone to the TV to easy viewing.
The Screen Mirroring feature of the Premium range allows users to share life moments on Vu TV. Enabled via Any View cast or DLNA, the TV can then be used to share content from computer, Tablet & smartphone on Wifi or LAN. The screen can be easily synced via Smart Control or DLNA.