New MediaTek Helio Chipsets Deliver Rich Features | TechTree.com
New MediaTek Helio Chipsets Deliver Rich Features
These new chipsets support dual camera modules and are equipped to minimise grain and noise in the camera output.
MediaTek has introduced the newest members of the Helio chipset family, the Helio P23 and Helio P30 system-on-chips (SoCs). The new chipsets, according to the company, are designed to deliver performance and power efficiency, dual camera photography, dual SIM and dual 4G VoLTE capabilities, support the explosion of innovation in the mid market.
"Reaching the mid market means bringing people affordable devices that power and perform with the latest features, like dual-cameras and 4G LTE connectivity," said TL Lee, General Manager of MediaTek's Wireless Communication business unit. "In the rapidly growing arena of new premium mid-range devices, mobile technology innovators know they need to stand out in a crowded field – P23 and P30 enable them to do that."
The P23 and P30 bring dual-camera support to the MediaTek Helio line, delivering software and hardware-backed dual-camera features that guarantee a superior photography experience. The MediaTek Helio P23 features support for 13+13 megapixel dual-camera setups, while MediaTek Helio P30 supports up to 16+16 megapixels.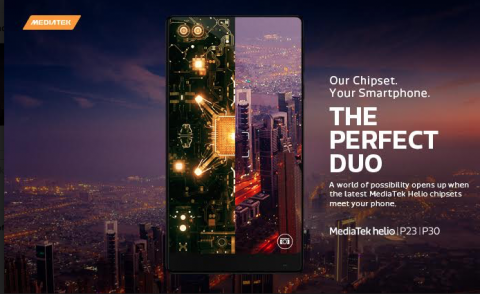 Incorporating MediaTek's Imagiq 2.0 technology suite, the chipsets, according to a recent press release, are equipped to minimize aliasing, grain and noise, reduce chromatic aberration and more – resulting in clear, crisp, high-quality images across a number of lighting conditions. Additionally, a new hardware Camera Control Unit (CCU) - with auto exposure convergence speed up to twice as fast as competitors – ensures users never miss the moment they want to capture.
The P30 also features a new Vision Processing Unit (VPU), a dedicated 500MHz digital signal processor paired to the Image Signal Processors. This frees up system resources and delivers a number of key advantages including programmability and flexibility, huge power reduction, and performance boost.
TAGS: MediaTek