Toreto Launches Bluetooth Speaker-Karaoke Mic For Rs 2,499 | TechTree.com
Toreto Launches Bluetooth Speaker-Karaoke Mic For Rs 2,499
It works as a microphone, bluetooth speaker, and a karaoke machine; all in one.
Toreto has recently announced the launch of 'TOR 302 T-Buzzer', a Bluetooth Speaker and Karaoke Mic for Rs 2,499 in India. As the name suggests, the device works as a microphone, bluetooth speaker, and a karaoke machine; all in one.
According to a press release, the new all-in-one, TOR 302 T-Buzzer connects swiftly with any Karaoke app and can even record voice or audio while working as a Karaoke mic. The recording feature guarantees hours of fun-time. One can playback the recording to hear those entertaining talks again and again with TOR 302 T-buzzer.
The device connects your mic with any other device easily with just a single touch pairing button. It has a power switch to turn the device on or off. The echo control helps to manage voice echo feature. The navigation buttons help to control volume as well as playing of songs.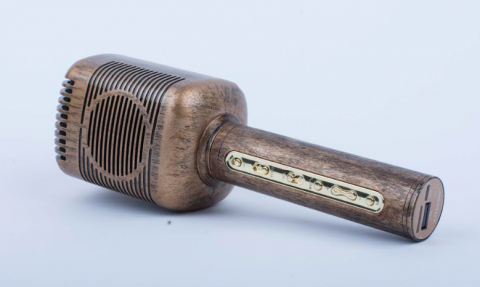 You can directly play songs from your device to enjoy the speaker feature of this mic. It is also possible to record your voice or an audio. It has a TF Socket, a USB Socket and a 5V Charging Socket located at the bottom.
This raw finish portable mic and speaker gives you 6-8 hours of uninterrupted playback time. It allows you to record & save your voice in TF card/AUX/USB Devices.
TOR 302 T-Buzzer by Toreto comes in Gold colour in a durable metal body. This musical device gives freedom from wired speakers and making it convenient to carry your passion to places. The high quality material used gives you distortion free musical experience. It has high sound quality and its noise cancellation feature lets you enjoy wonderful singing time.
The device is available at a very attractive price-point of Rs 2,499 and is available in both online and offline retail stores.
TAGS: Bluetooth Speakers, Karaoke Mic