WhatsApp Reportedly Testing Colorful Status Feature | TechTree.com
WhatsApp Reportedly Testing Colorful Status Feature
The feature is said to be similar to what Facebook had rolled out last year.
WhatsApp is once again in the news, thanks to reports that suggest about a Facebook-like colored text status feature. According to a recent post published on The Indian Express, it is said that Android Police recently reported about a new feature which is expected to be part of WhatsApp beta version 2.17.291, allowing users to update their 'Status' through colorful texts, pretty much what Facebook rolled out last year.
The original report further claims the new feature as being tested on the server side. And, you can definitely test the new feature if you have already signed up for the WhatsApp Beta Testing program.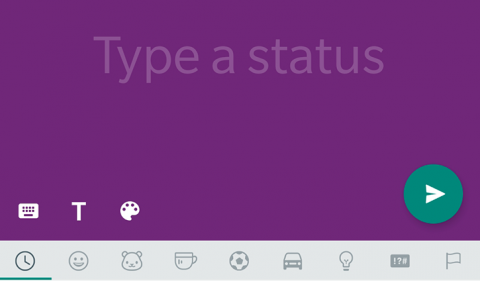 Well, if you are beta tester already, then you will have to click on the 'Status' tab and then, tap on the 'Floating Pencil' icon. However, if you are still unable to see this feature, we suggest you to clear the app data and try it out again. It is worth noting that, clearing app data may affect your installation or you may lose data.
Speaking about the new feature, it comes with three icons that allow you to add emojis, select font, and change background color. However, though this feature is already available for beta testers, the report on Android Police suggests that it should take a while before actually the new feature is rolled out to a wider audience.
Having said that, it is worth recalling that WhatsApp is also testing out features like Cancel and Recall button that should save you from sending embarrassing and unintended messages. Another feature that is being tested is the one that allows you to watch YouTube videos directly inside the app itself.
TAGS: WhatsApp