Jabra Launches Elite Sport Earbuds With Heart Rate Monitor
The earbuds use in-ear heart rate monitor, and is IP67 certified.
Jabra has recently launched its new true wireless earbuds under its new 'Elite' franchise, dubbed as the Jabra Elite Sport, which is claimed to be the most technically advanced, true wireless sports earbuds available in the market.
The Elite Sport supports all major smartphone operating systems (both Android & iOS) and also has a focus on the in-call experience. It is also said that the earbuds are capable of analysing external sounds and automatically switch to the earbud with least background noise.
According to a recent press release, these earbuds have four-microphones and come with advanced personalised fitness analysis using in-ear heart rate monitor. Also, it can play around 4.5 hours of stereo music and calls, while an additional nine hours of play time is available through the carry case. It also comes with IP67 certification and a three-year warranty against sweat and water.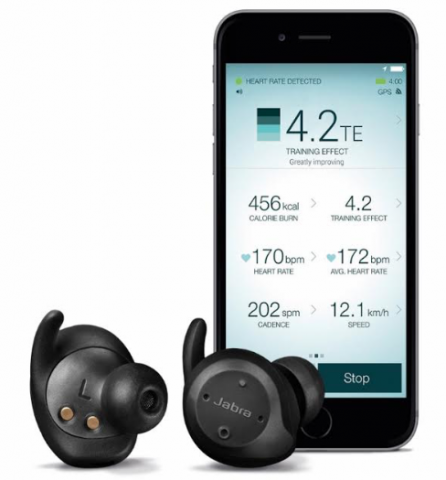 René Svendsen-Tune, CEO of Jabra said, "What truly excites me about our first true wireless earbuds is that they offer an experience that only Jabra can bring-to-life. We've used our R&D expertise from across the GN Group to deliver not just the most technically advanced true wireless sports earbuds, but actually the most complete cord-free experience for our customers. Jabra Elite Sport is an example of an intelligent sound solution that delivers calls and music very well, and does so much more besides".
According to the press release, the personalized VO2 Max data generated by Jabra Elite Sport, and captured by the app, allows you to track your fitness development over time. It uses intelligent in-ear coaching to provide real-time feedback based on your heart rate and fitness level. When you've finished your workout, the Jabra Sport Life app provides a range of information to help you improve your fitness level in the future, including distance covered, pace, route, calories burnt and training effect.
While all these features in a pair of earbuds definitely mesmerises most of us, the only thing that gives a heart attack is its price — a whopping Rs 18,990. The earbuds will be available for purchase starting from Aug 8, 2017 and you can get them on Amazon.in.