HomePod's Firmware Suggests Facial Recognition In iPhone 8 | TechTree.com
HomePod's Firmware Suggests Facial Recognition In iPhone 8
The feature has been recently spotted by a developer in the HomePod's firmware codebase published by Apple recently.
While recent rumours about the upcoming Apple iPhone have been teasing about what we may actually expect, the Cupertino giant itself has left a clue on this. According to a recent post published on Gadgets 360, the HomePod's new firmware comes with a face unlocking feature which pretty much self explains about the iPhone 8's feature that would allow customers to unlock the device by just looking at it.
According to Gadgets 360, the feature was spotted by developer Steve Troughton-Smith in the HomePod's firmware codebase which was published recently by Apple. It is being said that it has several references of 'BKFaceDetect' which may stand for BiometricKit. The post further mentions that the codebase suggests about infrared camera which may help the device to detect the user's face in the dark.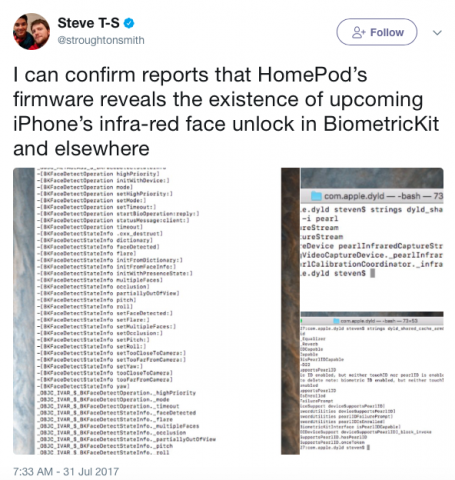 To recall, a couple of Tech experts and tipsters have been speculating over the past few weeks about Apple ditching the Touch ID fingerprint scanner and include the face recognition feature as a replacement. This was also backed by The Unbox Therapy on its YouTube channel while showing off a prototype of Apple iPhone 8 thus giving more credibility on the lack of physical home button on the front and back portions of the device.
With that said, it is also worth noting that the code comes with a picture of an iPhone prototype, and just as we have been witnessing all these days, it doesn't have any bezel or Touch ID button. Well, with all these speculations and suggestions being spotted every now and then, it won't be surprising, if at all, we actually see the face unlocking feature on the iPhone when it is released.
TAGS: Apple iPhone, iPhone 8