Meizu Pro 7 With Dual Screens Now Official | TechTree.com
Meizu Pro 7 With Dual Screens Now Official
Would the 2-inch second Super AMOLED display on the back panel really be useful to you?
Meizu has finally raised the curtains off its much rumoured smartphone, the Meizu Pro 7, and guess what, all that we have heard over the past few days is real. The Meizu Pro 7 comes with dual rear camera along with an interesting two screens — second one being a color Super AMOLED display panel on the back.
The second screen seen in the Meizu Pro 7 is definitely its key highlight and apparently, it is of 2 inch in size. Pretty much like how we have witnessed all these days over different renders, the second screen in Meizu Pro 7 is expected to be useful in seeing what music you are playing, have a glance at notifications, and also take selfies using the back camera.
Meizu Pro 7 comes with two 12 MP IMX386 sensors and according to Slash Gear, it follows a pattern familiar in Huawei's smartphones — one of the two camera sensors is set to monochrome so that the camera module can gather more data in respect to light, contrast, and depth. On the other hand, the front facing camera features a 16 MP sensor, which is pretty useful to capture great selfies as well.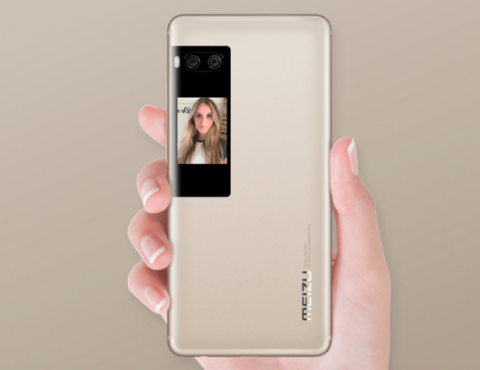 Speaking about this phone, it is also worth noting that it comes in two different models — the Meizu Pro 7 and the Meizu Pro 7 Plus. While the Pro 7 features a MediaTek Helio P25 processor, 4 GB RAM, 64 GB storage, 5.2 inch FHD Super AMOLED display, and 3,000 mAh battery, the Pro 7 Plus model comes with the latest Helio X30 processor, 6 GB RAM, 64 or 128 GB storage, 5.7 inch QHD display, and 3,500 mAh battery.
The device runs on Android based Flyme OS and as far as the pricing is concerned, the Meizu Pro 7 will be retailing at 2,880 RMB, and the Meizu Pro 7 Plus at 3,580 RMB for the 64 GB model and 4,080 RMB for the 128 GB model.
While the second display screen found on Meizu Pro 7 definitely proves technology is going ahead faster than we actually think, the question that remains is whether it can actually prove useful to many! Only time can answer I believe.
TAGS: Meizu Pro 7, Android