Google Maps Gets Real-Time Bus Info In Kolkata | TechTree.com
Google Maps Gets Real-Time Bus Info In Kolkata
The new feature has been possible in partnership with West Bengal Transport Corporation (WBTC).
Google is known for making its services more relevant to the local market, be it in any country, and India is no different. We have seen regional language support rolled out by the tech giant and other features rolled out specifically for the country; not to forget the translation feature — simply open the camera and translate the hoardings and boards into our regional languages.
Now, it looks like Google is increasing its target to make its services more relevant to India. The technology giant has recently introduced a feature to Google Maps in India — providing real-time bus information directly on the map.
The new feature announced on Monday is said to be a venture in partnership with West Bengal Transport Corporation (WBTC), and thus, is currently available only for the people in Kolkata. This feature gives commuters in Kolkata, information as to, when would a bus arrive at their stop and when would it reach their desired destination. Commuters would also be getting information pertaining to how long the commute could take.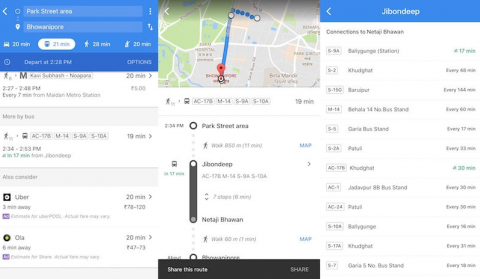 The new feature is available on both Android and iOS platforms, and if you are from Kolkata, you will have to open Google Maps app on your device, enter your destination, and tap on 'Get Directions' button. You can later tap the 'Transit' icon and you can view all the real-time information regarding bus timings and routes.
While the new feature is currently available only in Kolkata, the tech giant intends to include other routes in the future, according to a recent post published on Gadgets360. However, no official word has been put out yet as to when we can expect the new feature in other regions of India.
TAGS: Google Maps