Samsung Smartphone SM-G9600 Spotted On Geekbench
According to the leak, it comes with a quad core Snapdragon 840 SoC clocked at 1.77 GHz and 4 GB RAM.
A new smartphone by Samsung was recently spotted on Geekbench website, according to a post published on Phone Radar, and it looks like it is definitely not the much talked about Note 8 Phablet.
This new smartphone spotted on Geekbench comes with the model number SM-G9600 and it is expected to be either Galaxy S8 Lite or Galaxy S8 Mini. However, it is worth noting that the name has not yet been confirmed.
According to Geekbench website, the smartphone SM-G9600 comes with Qualcomm Snapdragon 840 SoC under the hood with four cores clocked at 1.77 GHz. Along side this, the listing mentions about a 4 GB RAM expected to be found inside the device. It also runs on Android 7.1.2 Nougat.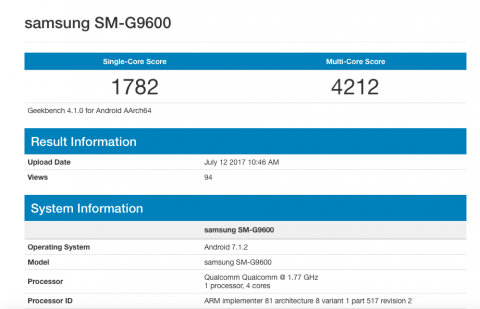 While these specifications raise our expectations about the smartphone higher, it is worth noting that there is still no information about the display or the camera module. However, the specs mentioned above certainly hint at a 'lite' variant of the Galaxy S8.
With that said, we suggest you to hold on for a while, until more information about the smartphone is actually out. We shall keep you posted. Watch this space.
TAGS: Samsung